A delicious laddu variety made from Sattu Maavu - a multigrain health mix.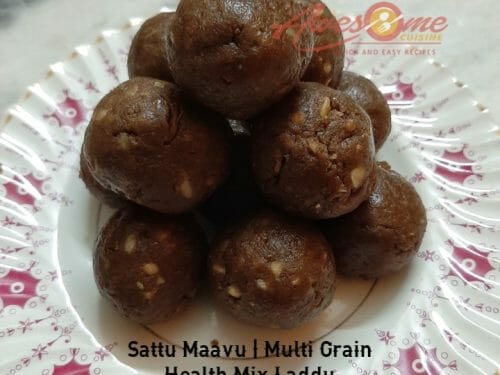 Sattu Maavu | Multi Grain Health Mix Laddu is a sweet made from mixed grains that is high in protein and fibre.
Laadus are the simplest and go-to sweet for any occasion. No festival or happy occasion is complete without it. These days with excess of sweet and processed food in play, using Sattu Maavu is a great way to infuse healthy ingredients in our desserts. Sattu Maavu is a mix of all grains and cereals. The grains are usually unprocessed and hence high in nutrition. For centuries this mix and concoction have been a regular drink for building health in kids and adults alike. Commonly sattu maavu kanji is used as a healthier home made food for growing babies. It is a good source of protein and fibre and hence aids in keeping one full for longer.
Usually consumed as a health drink and a substitute for breakfast or other meal, we decided to experiment and make it more irresistible by adding nuts and jaggery for taste. One of the tips to keep in mind is to use Sattu maavu made from roasted grains. It helps releasing the aroma and flavours.
Now on to the recipe. If you like this, comment and share your experience. You can also try some of our other Diwali delicacies like Chocolate Peda, Paneer Laddu,  Rajbhog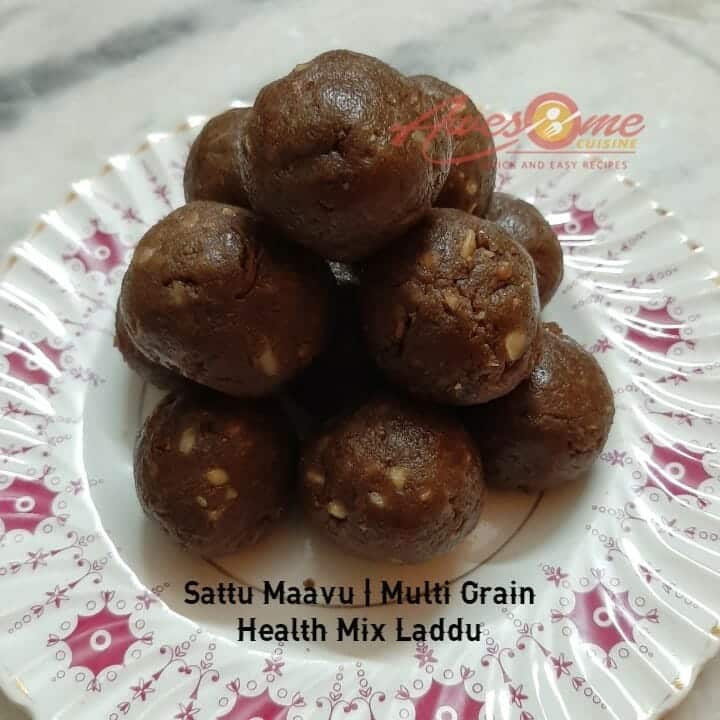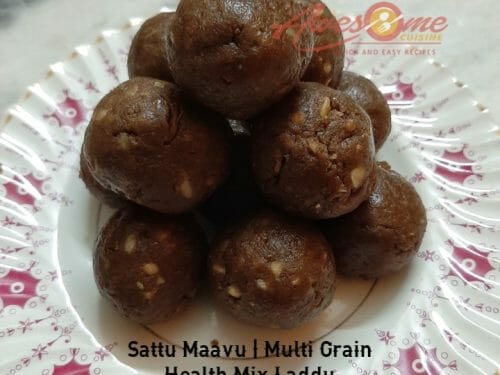 Sattu Maavu Laddu

Recipe

A delicious laddu variety made from Sattu Maavu - a multigrain health mix.
Ingredients for
Sattu Maavu Laddu
300

g

Sattu Maavu flour

preferably made from roasted grains

300

g

Jaggery or Palm Sugar

powdered

30

g

Almonds

Coarsely broken

30

g

Cashews

Coarsely broken

2-3

Cardamom

optional

20

g

Raisins

10

g

Desiccated Coconut flakes

30

g

Ghee
How to make
Sattu Maavu Laddu
Take a Kadhai and warm a small amount of Ghee in it.

Add all the nuts, raisins and coconut mixture in the ghee and roast it on low flame for 30sec - 1 minute.

Heat the remaining ghee and roast the flour until it releases and aroma - around 7-8 minutes.

In the meantime, add some water in the jaggery and heat it until it dissolves.

Filter the Jaggery water and bring it back to the stove and allow it to simmer until it thickens.

Grind the cardamom seeds and powder it.

Take the jaggery water, nuts mixture, cardamom powder and some additional ghee and add it to the Sattu Maavu.

Stir well until it thickens to a dough like consistency.

Take it aside and pinch balls to make laddus.

You can grease your hands with a bit of ghee to aid in rolling.

Refrigerate and store in an airtight container.