Samai is a type of millet which is also sometimes referred as little millet. It is packed with nutrients such as calcium, fiber, iron, minerals and much more. Therefore, the dosa prepared with Samai is of high nutritional value, especially for the growing kids.
Samai dosa is medium to light brown in color, crispy and tastes delicious. It is a popular recipe throughout the Indian subcontinent but people of South India prefer it more than anyone else in the world.
Dosa is a South Indian dish popular across India and is a sort of Indian fast food since it can be prepared and eaten in a really quick time. Different cereals like Ragi, Rava, lentils, rice, and much more can be used to prepare dosas and nowadays multi-grain dosas are also preferred because of their nutritional benefits.
Samai can be used to prepare other dishes such as upma, idli, vada, Pongal, etc. and proves to be a good alternative for rice. The Samai dosa can be served with coconut chutney or any other chutney along with an aromatic bowl of sambhar (Indian curry)!
Samai, Urad dal, fenugreek seeds, poha (beaten rice) and salt are the basic requirements of the Samai dosa recipe and you need to prepare the ferment the batter at least 12 hours before preparing the dosas (colder regions might need even more fermentation).
Samai is a good source of anti-oxidants and also improves our digestion. Vegans can consume snacks made from Samai since they are completely gluten-free. It is known to fight cholesterol and has a greater content of iron and fiber than rice. As a result, you can include this dosa in your daily diet.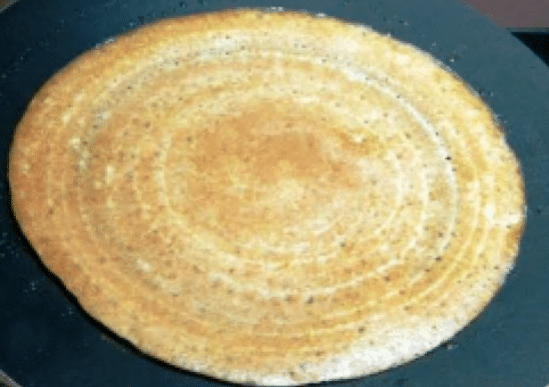 Samai Dosa

Recipe

The Samai dosa can be served with coconut chutney or any other chutney along with an aromatic bowl of sambhar
Ingredients for
Samai Dosa
1

cup

Samai (Little Millet Rice)

2

tsp

Urad Dal

1

tsp

Fenugreek Seeds

2

tsp

Poha / Aval / Beaten Rice

Salt

as per taste

Oil

as required
How to make
Samai Dosa
Soak together the samai rice, urad dal, poha and fenugreek seeds for 2 to 3 hours.

Then grind them to a smooth batter.

Keep aside for 8 hours for the batter to ferment.

Add salt and mix well.

Heat a non-stick tawa over medium flame.

Pour a ladleful of batter and spread evenly.

Cook until golden brown on both sides and remove.

Serve with chutney and sambar of choice.