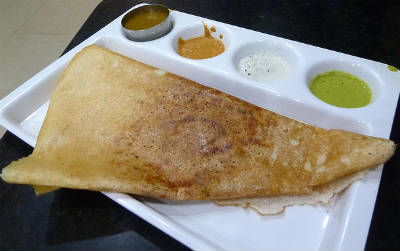 Ingredients:
Cauliflower Florets – 1 cup, cleaned, washed, finely chopped
Dosa Batter – 1 cup
Onion – 1, finely chopped
Tomato – 1, finely chopped
Ginger Garlic Paste – 1 tsp
Red Chilli Powder – 2 tsp
Turmeric Powder – a pinch
Mustard Seeds – little
Curry Leaves – few
Coriander Leaves – few, chopped
Salt as per taste
Oil as required

Method:
1. Heat little oil in a pan over medium flame.
2. Fry the mustard seeds and curry leaves for 30 to 40 seconds.
3. Add the ginger garlic paste, onions and tomatoes.
4. Saute well for a few minutes or until the onions turn translucent.
5. Add turmeric powder, red chilli powder, cauliflower and salt.
6. Stir well and cook for 3 to 4 minutes.
7. Heat a tawa over medium flame.
8. Pour a ladleful of the batter and spread well.
9. Add 2 to 3 tsp of the cauliflower mixture and apply oil around the edges.
10. Cook until the bottom is done and light golden brown.
11. Half fold the dosa and flip it over carefully.
12. Cook for 30 to 45 seconds and remove.
13. Serve at once with chutney and sambar.