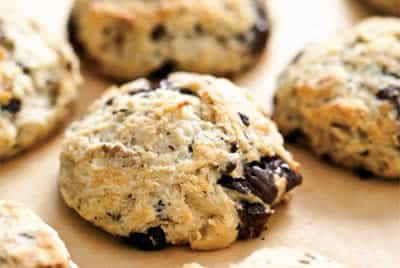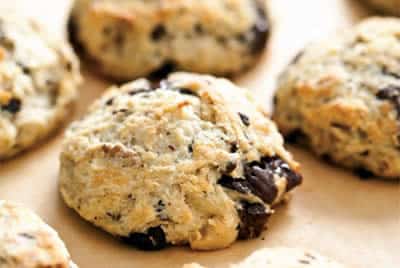 Ingredients:
Maida – 100 gms + little bit more
Sugar – 1 tblsp, granulated
Baking Powder – 1 tsp
Egg – 1, small
Butter – 1/4 cup, unsalted, cubed
Dark Chocolate – 1/2 cup, chopped
Walnuts – 1/3 cup, toasted and coarsely chopped
Buttermilk – 1/4 cup, plain
Vanilla Extract – 3/4 tsp
Salt as per taste
Method:
1. Combine the maida, sugar, baking powder and salt in a bowl.
2. Add the butter and mix until it resembles a coarse crumbs.
3. Add the chocolate and walnuts. Mix well.
4. In a separate bowl, mix the egg, vanilla and butter milk.
5. Gently pour this into the flour and mix well until combined.
6. Transfer the dough to a floured surface and using a pastry cutter or a small cup, cut circles and place them on an ungreased baking sheet.
7. Place them in a preheated oven at 375F/185C and bake for 15 minutes or until lightly browned on top.
8. Remove and cool.
9. Serve at once or store in an airtight container for 4 to 5 days.