Vanilla Sponge cake is one of the most basic cake recipes. Made from staple ingredients found in our kitchen, this cake is extremely easy to make. There are just 5 major ingredients to this cake – flour, sugar, butter, eggs and baking powder.
The British cuisine has a popular cake named Madeira Cake, which is nothing but a simple sponge cake. Unlike many other cakes, the sponge cake is set apart because it doesn't require any fancy ingredient like leavening, shortening or products that are not easily available for home baking. The sponge cake is considered one of the earliest cakes that incorporated yeast-less baking technique which did not depend on yeast for the rise.
The secret to a soft, spongy cake is in the beating of eggs and butter mixture. The rise depends heavily on the amount of air incorporated during the whisking stage. Once the butter, eggs and sugar mixture is airy and light, the flour is folded into this carefully using a spatula.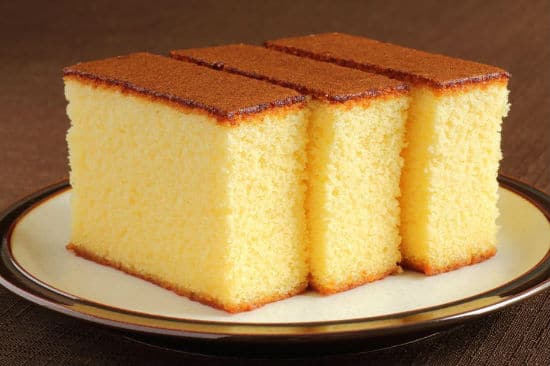 Serve it as a tea cake by itself or use as a base for any other cakes that you want to make during a special occasion like birthday parties or festivals like Christmas. An easy recipe for a simple, moist and delicious vanilla sponge cake.
Vanilla Sponge Cake

Recipe

An easy recipe for a simple, moist and delicious vanilla sponge cake.

Ingredients for
Vanilla Sponge Cake
125

gms

Maida (Plain Flour)

125

gms

Butter

125

gms

Powdered Sugar

2

Eggs

1/2

tsp

Baking Powder

1/4

tsp

Baking Soda

1/3

tsp

Vanilla Essence

Salt

a small pinch
For the icing:
25

gms

Butter

25

gms

Icing Sugar

1/8

tsp

Vanilla Essence
How to make
Vanilla Sponge Cake
Preheat oven to 180C.

Beat the butter and powdered sugar until frothy.

Break the eggs into the butter mixture and mix.

Add vanilla essence.

Sieve together the maida, salt, baking powder and baking soda in a bowl.

Gradually add the dry mix into the butter mixture and carefully fold it using a spatula.

Transfer to a greased and floured cake tin.

Smooth the surface and place it into a preheated oven at 180C for 45 minutes or until the top is golden brown and a skewer inserted into the center comes out clean.

Remove and allow it to cool before de-moulding and transferring to a wire rack to cool completely.
Icing:
Beat all icing ingredients until frothy and light.

Transfer it into a piping bag and keep ready for decoration.

Once the cake is cooled, decorate as desired.
Notes
To make chocolate flavour, add 2 tbsp for unsweetened cocoa powder to the dry mix. Sift it well to remove lumps.
For an orange or lemon flavouring, grate the peel of the fruit and add it to the batter. You can optionally use an orange or lemon essence as well.