A simple and easy to make cookies with cornflour.  Serve as a teatime snack.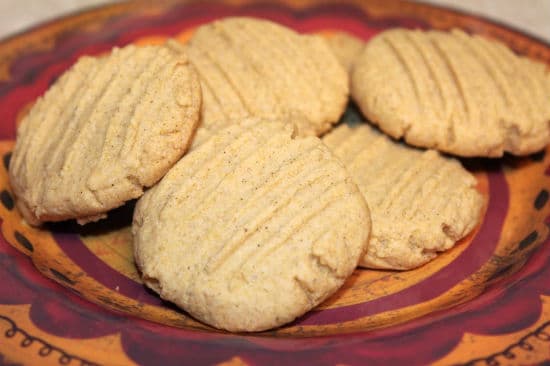 Ingredients:
Corn Flour – 100 gms
Maida – 150 gms
Butter – 100 gms
Icing Sugar – 75 gms
Corn Flakes – 50 gms, crushed
Milk – 50 ml
Milk Powder – 5 gms
Vanilla Essence – 1 drop
Method:
1. Mix the butter and icing sugar in a bowl.
2. Whisk well until creamy.
3. Add vanilla essence, maida, milk powder, corn flour and mix well.
4. Knead well until it has a chapati dough consistency.
5. Make small balls of the dough.
6. Dip them in milk and roll them in the crushed corn flakes. Flatten it lightly.
7. Place the cookies in a baking tray.
8. Place the tray into a preheated oven at 180C/350F for 10 to 15 minutes.
9. Remove and cool.
10. Store it in an airtight container and serve as a snack.