Chocolate Brownies are a popular and delicious treat ideal as an any time snack or as a dessert after a meal. This eggless version is as tasty as the original one.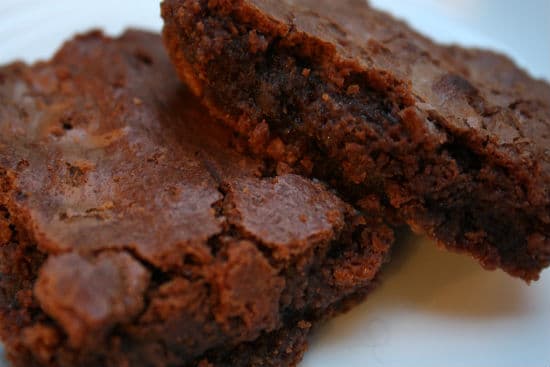 Ingredients:
Plain Flour (Maida) – 1 1/2 cups
Cocoa Powder – 2 tblsp
Oil – 1/2 cup
Vanilla Essence – 1/2 tsp
Vinegar – 1 tblsp
Water – 1 cup
Sugar – 1 cup
Baking Powder – 1 tsp
Baking Soda – 1/2 tsp
Salt – 1/4 tsp
Method:
1. Combine the flour, sugar, baking powder, baking soda, cocoa powder and salt in a bowl.
2. Add oil, vanilla essence, vinegar and water.
3. Mix well.
4. Grease an oven safe bowl and sprinkle a little maida.
5. Transfer the brownie mixture into it.
6. Keep it in a preheated oven at 180C for 20 minutes or until brownies are done and a toothpick inserted into the center comes out clean.
7. Remove, cool and garnish with choco chips or as desired.
8. Cut it into pieces and serve.
Tip: Preheat the oven at 180C for 15 minutes.