A tasty and spicy chicken curry dish. A really hot and fiery dish, it is best served with steaming hot rice, roti or naan.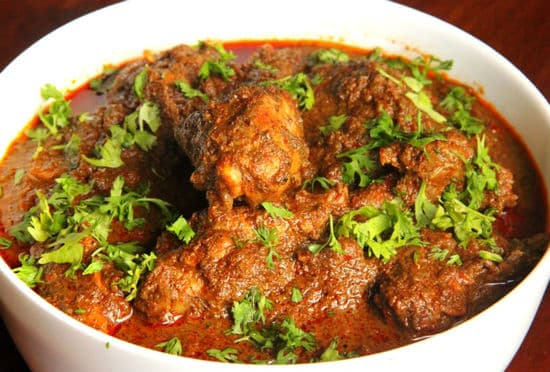 Ingredients:
Chicken Breast Fillets – 2 to 3, cut into bite-sized chunks
Sesame Seeds – 1 1/2 tsp
Poppy Seeds – 1 1/2 tsp
Turmeric Powder – 1/4 tsp
Onions – 2 + 2, finely chopped
Tomato – 1, large, chopped
Coriander Leaves – handful, chopped
Salt as per taste
Red Chilli Powder – 1 1/2 tsp
Ginger Garlic Paste – 3 tsp
Coconut – 3 tsp, grated
Garam Masala Powder – 1/2 to 3/4 tsp
Oil – 3 tsp
Method:
1. Dry roast the sesame seeds and poppy seeds.
2. Dry roast the coconut and keep aside.
3. Mix 1 1/2 tsp ginger garlic paste, 1/4 tsp turmeric powder and salt in a large bowl.
4. All the chicken chunks and rub well until evenly coated.
5. Keep aside for 45 to 60 minutes.
6. Finely chop the onions and fry half of them until well browned.
7. Remove and combine with the coconut, sesame seeds and poppy seeds.
8. Grind to a fine paste.
9. Heat oil in a heavy-bottomed pan.
10. Add the remaining onions and saute for 30 to 45 seconds.
11. Add the ginger garlic paste and saute until onions turn golden brown.
12. Add the red chilli powder, tomatoes and cook for 2 to 3 minutes.
13. Add the marinated chicken pieces and cook for a minute more.
14. Add the ground paste, salt and some water.
15. Mix well and bring to a boil.
16. Add the garam masala powder, coriander leaves and cover the pan with a lid.
17. Reduce flame and cook on low flame for 15 to 25 minutes or until the chicken is fully cooked.
18. Garnish with coriander leaves.
19. Serve with rice, roti or naan.
Tips:
You can also use chicken drumsticks instead of chicken breasts.
Garnish with fresh cream if desired.