Celebrate this holiday season with a warm, delicious and classic peppermint flavoured Mocha. Made with cocoa, instant coffee granules and peppermint syrup, this is sure to warm your spirits up this winter.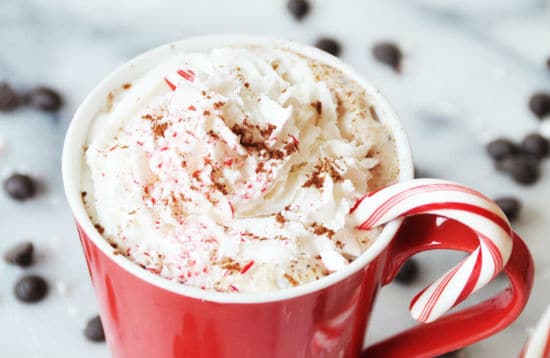 Ingredients:
Milk – 2 1/2 cups
Cocoa Powder – 1 1/3 tblsp, unsweetened
Instant Coffee – 4 tblsp
Hot Water – 1/2 cup
Peppermint Syrup – 2 tblsp (available readymade or use the recipe below)
Whipped Cream to garnish
Peppermint Candies to garnish, crushed
Chocochips to garnish
Method:
1. Heat a saucepan over medium flame.
2. Add the milk and whisk continously for about 5 to 6 minutes or until frothy.
3. Mix the cocoa powder, coffee and hot water.
4. Stir until fully dissolved.
5. Add the frothy milk and peppermint syrup.
6. Garnish with cream, chocochips and candies.
7. Serve at once.
To make the peppermint syrup, heat 1 cup of water, 1 cup of sugar and 1/2 cup of fresh peppermint leaves in a pan. Simmer until thick, about 10 minutes. Remove from flame and keep aside for 10 to 15 minutes. Strain to remove the leaves and use as desired.