A delicious, nutritious and easy to make coriander roti (also called as coriander chapati). Coriander leaves are a great source of dietary fiber, potassium, calcium and other essential nutrients. This roti is best served with curd or raita for breakfast or dinner.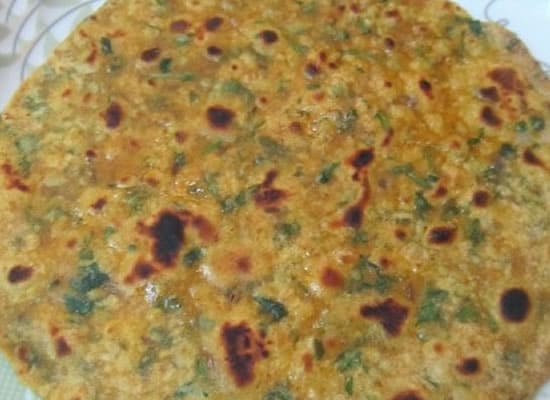 Ingredients:
Wheat Flour – 2 cups
Coriander Powder – 1 tsp
Red Chilli Powder – 1 tblsp
Sambar Onions (Shallots) – 1/2 cup, peeled, ground coarsely
Ginger Paste – 1/2 tsp
Coriander Leaves – 2 tblsp, finely chopped
Salt as per taste
Oil as required
Method:
1. Grind the onions coarsely and transfer to a large bowl.
2. Add the wheat flour, salt, red chilli powder, coriander powder, ginger paste and coriander leaves.
3. Add enough warm water and mix well to a thick, pliable dough.
4. Make small/medium balls and roll them out into medium size rotis.
5. Heat a nonstick tawa over medium flame.
6. Cook the rotis on both sides, adding little oil around the edges.
7. Remove and serve with side dish of choice.