Dal Panchmel (Panchmel Dal or Panchratna Dal) is a popular, delicious and nutritious dish made with 5 types of dal (lentils). A traditional Rajasthani dish, there are multiple variations depending on local flavours and is typically served with rice or as a side dish with roti or naan.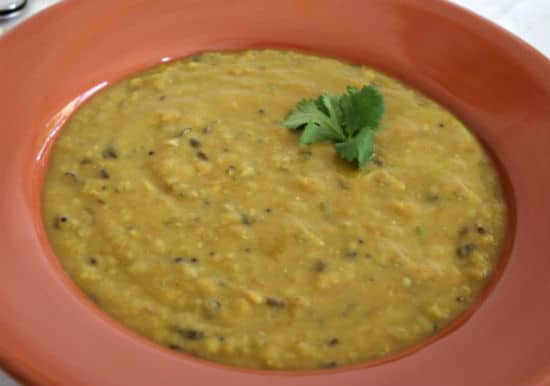 Ingredients:
Bengal Gram Dal – 125 gms
Moong Dal (Green Gram) – 125 gms
Toor Dal – 125 gms
Masoor Dal – 125 gms
Urad Dal – 125 gms
Tomato – 1, small, chopped
Cloves – 2 to 3, whole
Green Cardamom Pod – 1
Green Chilli – 1, small, chopped
Red Chilli – 1, chopped
Ginger – 2 tsp, crushed or very finely chopped
Cumin Seeds – 1/2 tsp
Turmeric Powder – 1/2 tsp
Oil – 2 to 3 tsp
Salt as per taste
Coriander Leaves – few, chopped, to garnish
Method:
1. Soak all the dals for 30 minutes.
2. Drain well.
3. Heat a heavy-bottomed pan over medium flame.
4. Add the dals and pour enough water (to cover them).
5. Add some salt and bring them to a boil.
6. Reduce flame and cover the pan with a lid.
7. Simmer for 15 to 30 minutes or until the dals are soft and tender.
8. Heat oil in a separate pan.
9. Fry the cumin seeds, cloves, cardamoms and red chillies for 30 to 60 seconds.
10. Add the green chillies and ginger.
11. Saute for a minute more.
12. Add the tomatoes, turmeric powder and cook for two minutes or until the tomatoes are mushy.
13. Add this to the dal mixture and mix well.
14. Cook for another 5 to 10 minutes.
15. Sprinkle some salt and garnish with coriander leaves.
16. Serve hot with rice.
Tip: If the dal is too thick at step #6, add some water.