A delicious & creamy Sri Lankan Chicken Curry full of flavour and best served with hot rice. Ideal for lunch, dinner or any special occasion.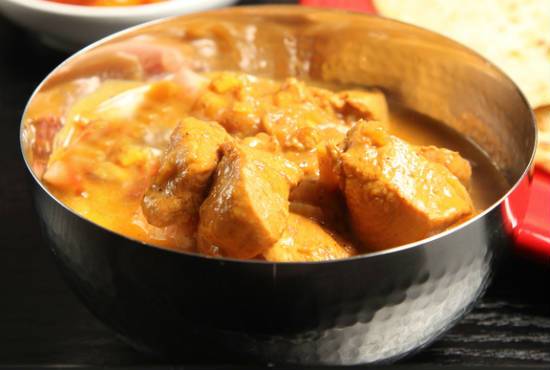 Ingredients:
Chicken Breasts – 2, skinless, boneless, chopped
Thick Coconut Milk – 150 to 200 ml
Water – 1/3 cup
Spring Onions – 1/2 bunch, chopped
Garam Masala Powder – 1 tsp
Cinnamon Powder – 1/2 tsp
Curry Powder – 3 tsp
Ginger Garlic Paste – 1/4 tsp
Red Chilli Powder – 1 to 2 tsp (adjust as required)
Oil as required
Coriander Leaves – few, chopped
Salt as per taste
Black Pepper Powder as per taste
Method:
1. Heat a pan over medium flame.
2. Add the cinnamon powder, ginger garlic paste, red chilli powder, curry powder and garam masala powder.
3. Stir-fry for a minute.
4. Sprinkle salt and pepper on the chicken pieces.
5. Add 1 to 2 tblsp of oil to the pan and stir well.
6. Add the chicken pieces and cook for 2 minutes.
7. Remove the pan from the flame.
8. Pour the coconut milk and water.
9. Stir once and place it over the flame again.
10. Allow it to simmer for a few minutes.
11. Add the spring onions and cook for some more time over low flame.
12. When the chicken is cooked, remove the pan from the flame.
13. Adjust seasoning and garnish with coriander leaves.
14. Serve with rice.
Tip: To check if the chicken is cooked at step #12, take a piece and cut it with a knife. If there is no pinkness remaining, then it is cooked else cook for some more time.