These kebabs made with shrimps and vegetables are simple, easy to make and taste delicious.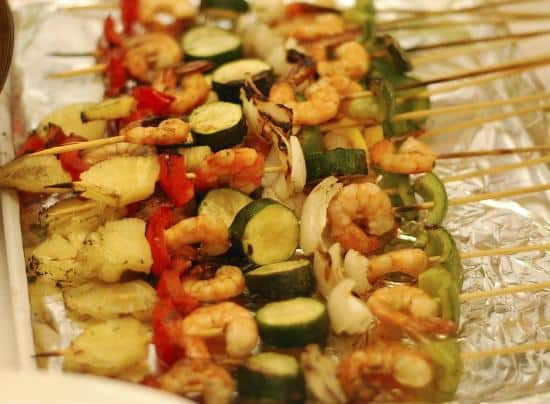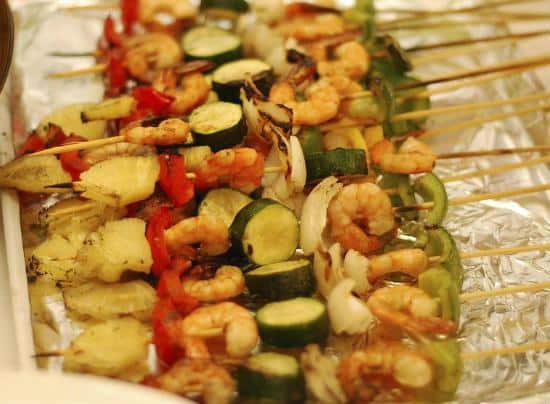 Ingredients:
Jumbo Shrimps – 10 to 12, peeled
Mixed Vegetables – 1 1/2 to 2 cups (capsicums, onions, zucchinis, broccoli or cherry tomatoes)
Olive Oil – 1/4 cup
Sea Salt as per taste
Black Pepper Powder as per taste
Slices of Lemon for serving
Wooden Skewers – soaked in water for 40 minutes
Method:
1. Chop the vegetables into bite-sized pieces. YOu can halve the cherry tomatoes or leave them whole.
2. Transfer to a large bowl.
3. Add the shrimps and the olive oil.
4. Mix well and cover the bowl with cling film.
5. Keep it in the fridge for 60 to 90 minutes.
6. Thread the shrimps and vegetables onto the skewers.
7. Sprinkle some salt and pepper powder on top.
8. Heat a grill pan (or a grill) over medium flame.
9. Place the skewers on top and cook for 2 to 3 minutes turning once or twice.
10. Remove and serve with a dipping sauce of choice.
Note: Feel free to use vegetables or fruits of choice. Pineapple is added in many places.