A simple and easy seafood salad in Vietnamese style.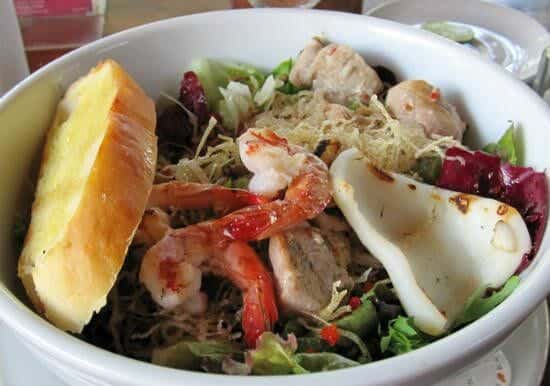 Ingredients:
Mixed Seafood – 200 gms, cooked
Plain Rice Noodles – 150 gms, cooked
Beansprouts – 150 gms
Carrot – 2, finely sliced
Spring Onions – 1/2 bunch, sliced
Mint Leaves – handful, chopped
Coriander Leaves – handful, chopped
Rice Wine Vinegar – 2 1/2 tblsp
Caster Sugar – 1/2 tsp
Red Chilli Flakes – 1/2 tsp (or 1 small Red Chilli, chopped)
Lemongrass – 1/2, sliced
Soy Sauce – 2 tsp
Method:
1. If using prawns, remove the shells and devein them.
2. Mix the seafood, noodles, beansprouts, spring onions, mint leaves, carrot and coriander leaves in a large bowl.
3. Mix the vinegar, sugar, red chilli flakes, lemongrass and soy sauce in a small bowl.
4. Add this to the salad and toss well until evenly mixed.
5. Transfer to a serving bowl.
6. Garnish with some mint and coriander leaves.
7. Serve at once.