A popular Chinese stir-fry prawn dish from the Sichuan province. Prawns cooked in a sweet chilli sauce and served with rice or noodles.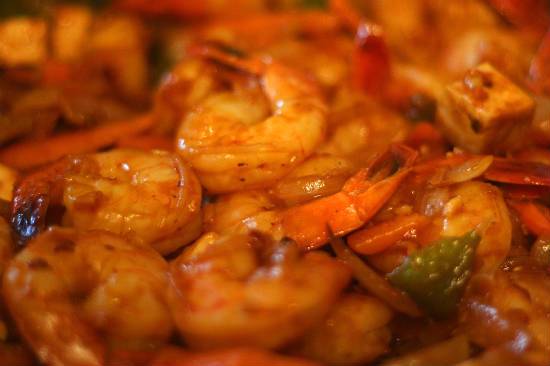 Ingredients:
King Prawns – 225 gms, shelled, deveined
Spring Onions – 2 tsp, finely chopped
Ginger Garlic Paste – 1 tsp
Oil – 2 tsp
Salt – a pinch
Black Pepper Powder – little
Coriander Leaves – few, chopped
For the Sauce:
Tomato Puree – 2 tsp
Cider Vinegar – 1 tsp
Sweet Chilli Sauce – 1 1/2 tsp (or you can use Black Bean Sauce or Red Chilli Sauce)
Caster Sugar – 1 tsp
Sesame Oil – 1 tsp
Method:
1. Heat oil in a pan over medium flame.
2. Add the ginger garlic paste, spring onions and fry for 10 seconds.
3. Add the prawns and stir-fry for a minute.
4. Add all the sauce ingredients, a pinch of salt and black pepper powder.
5. Stir-fry for 2 to 4 minutes or until the prawns are cooked.
6. Garnis with spring onions.
7. Serve with rice or noodles.