A popular and delicious Chinese dish with shrimps and vegetables. Perfect for a quick dinner or takeout meal.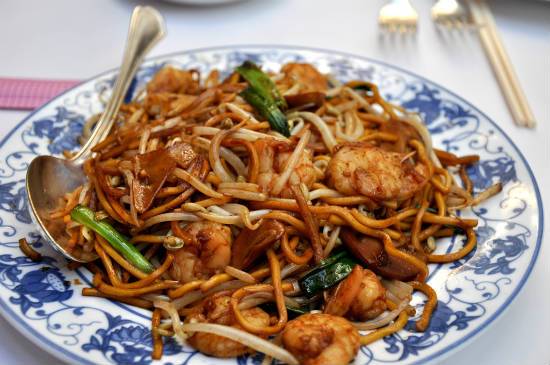 Ingredients:
Shrimps – 900 gms, peeled, deveined (about 50)
Chow Mein Noodles – 500 gms, cooked as per packet instructions
Carrot – 2, sliced
Green Peas – 2 cups, shelled
Mushrooms – 2 cups, chopped
Garlic – 4 to 6 cloves, minced
Chinese Cabbage – 400 gms, chopped
Oyster Sauce – 1/4 cup
Chicken Stock – 2 cups
Corn Flour – 2 tblsp
Sesame Oil – 2 tsp
Vegetable Oil – 2 tblsp
Method:
1. Mix the sesame oil, oyster sauce and corn flour in a large pot.
2. Pour the chicken stock and stir well.
3. Heat 2 tsp of vegetable oil in a pan over medium flame.
4. Add the shrimps and saute until pink and opaque.
5. Remove and transfer to a plate.
6. Add the remaining oil to the pan.
7. Add the mushrooms, carrot, peas and garlic.
8. Stir-fry for a minute or two.
9. Add the cabbage and saute for 2 minutes.
10. Add the chicken stock mixture, shrimps and noodles.
11. Stir gently until the sauce has thickened and noodles are coated evenly.
12. Serve.
Tip: You can also add capsicums, celery and red onions if desired.
Subscribe to our Newsletter
Receive the latest recipes & kitchen tips !