This is a simple and tasty Potato and Onion Fry often made in South India. Best served as a side dish to rice or roti.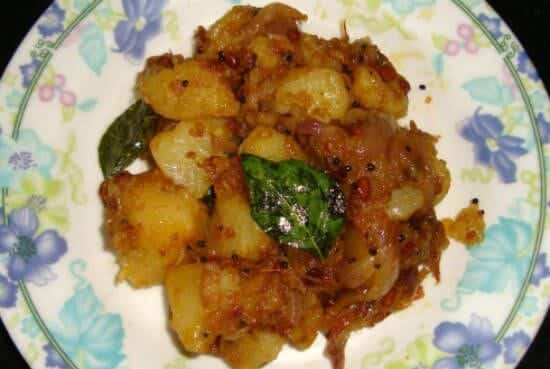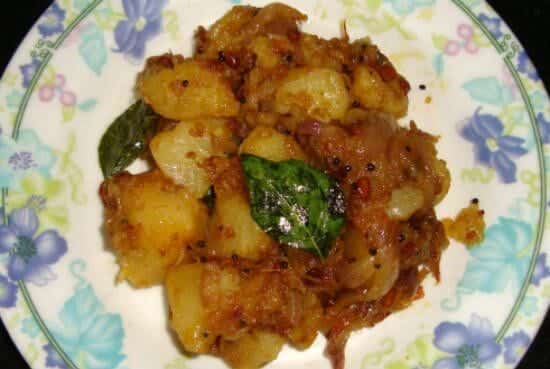 Ingredients:
Potatoes – 500 gms
Onions – 4 to 5, depending on size
Green Chillies – 2, chopped
Ginger Garlic Paste – 1 to 2 tsp
Mustard Seeds – little
Urad Dal – little
Asafoetida Powder – 1/2 tsp
Turmeric Powder – 1/2 tsp
Sambar Powder – 1 tsp
Red Chilli Powder – 2 tsp
Salt as per taste
Curry Leaves – few
Oil – 2 1/2 tblsp
Method:
1. Boil, peel and chop the potatoes.
2. Finely chop the onions and keep aside.
3. Heat oil in a pan over medium flame.
4. Add the mustard seeds, urad dal, curry leaves and asafoetida powder.
5. Fry for 20 seconds.
6. Add the ginger garlic paste, green chillies and stir-fry for a minute.
7. Add the onions and saute until golden.
8. Add the potatoes, turmeric powder, salt, sambar powder and red chilli powder.
9. Stir well and cook for 2 to 4 minutes.
10. Remove and transfer to a serving dish.
11. Serve with rice, roti or dosa.