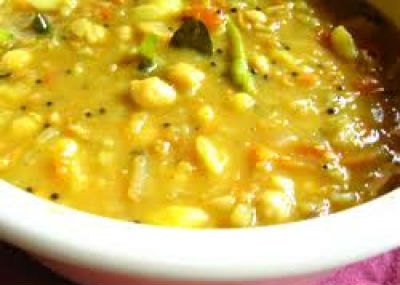 Ingredients:
Potatoes – 4, peeled, cubed
Onion – 2, chopped
Green Chillies – 4, slit
Ginger – 2 two inch piece, chopped
Red Chilli Powder – 2 tsp
Coriander Powder – 2 tsp
Turmeric Powder – 2 tsp
Salt – 2 tsp
Coconut Milk – 2 cups, thick
Garlic – 2 cloves, chopped
Cinnamon – 2 two inch sticks, broken
Cloves – 4
Fennel Seeds – 1/4 tsp
Black Peppercorns – 5 to 6
For tempering:
Oil – 4 tblsp
Mustard Seeds – 2 tsp
Small Onions – 4, chopped
Curry Leaves – 1 sprig
Method:
1. Coarsely grind the garlic, cinnamon, cloves, fennel seeds and peppercorns together.
2. Mix the potatoes with this in a pan.
3. Add onions, green chillies, ginger, red chilli powder, coriander powder, turmeric powder salt and 1 1/2 cups of water.
4. Mix well.
5. Cover pan with a lid and cook over high heat for 20 minutes or longer till the potatoes are tender.
6. Using a fork or a spoon, break the potatoes into small pieces.
7. Add coconut milk and simmer for 3 to 4 minutes.
8. Remove pan from heat.
9. Heat oil for tempering and fry the mustard seeds.
10. Once it starts to splutter add the other ingredients and fry till onions turn brown.
11. Pour into the curry, mix well and serve hot with rice or idiappam.