Idli is one of the most common and staple breakfast dish across South India. This one made with Wheat Rava is best served with coconut chutney, tomato chutney and sambar.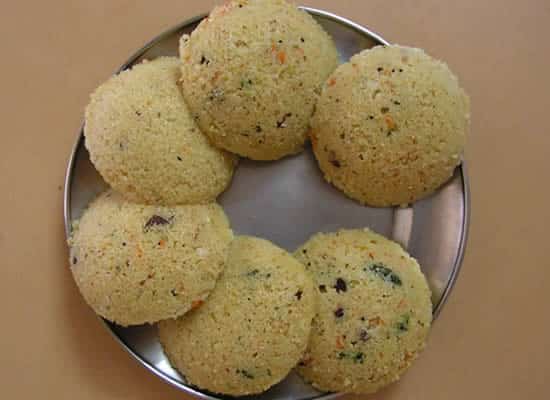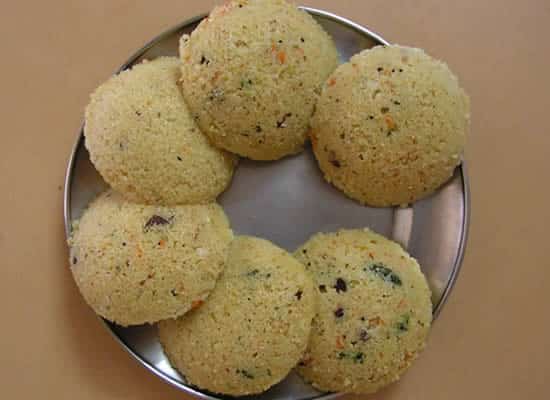 Ingredients:
Godhumai Rava (Wheat Rava) – 2 cups
Sour Curd – 2 cups
Water – 1 2/3 cups (approx 350 ml)
Ghee – 1/4 cup
Mustard Seeds – 1 tsp
Black Urad Dal – 2 tsp
Bengal Gram Dal – 2 tsp
Ginger – a small piece, peeled, finely chopped
Green Chillies – 4, finely chopped
Curry Leaves – handful, chopped
Cashew Nuts – handful
Cooking Soda – a pinch
Salt as per taste
Method:
1. Heat little ghee in a pan over medium flame.
2. Fry the cashew nuts until light golden brown and remove.
3. Add the wheat rava to the same pan and fry until light golden brown.
4. Remove and cool.
5. Add some more ghee to the pan.
6. Fry the urad dal, mustard seeds, curry leaves and bengal gram dal for 45 seconds.
7. Add ginger and green chillies.
8. Stir-fry for a minute and switch off the flame.
9. Mix the water and sour curd in a large bowl.
10. Mix well until it reaches an idli batter consistency.
11. Add the rava, urad dal, mustard seeds, bengal gramd dal, ginger and green chillies.
12. Add cooking soda and enough salt.
13. Mix well and keep aside for 45 to 90 minutes.
14. Pour into greased idli plates and cook until done.
15. Serve hot with chutney and sambar.