Crispy and flavorful, Yellow Pumpkin Poori is a delightful Indian bread made with grated pumpkin, wheat flour, and aromatic spices.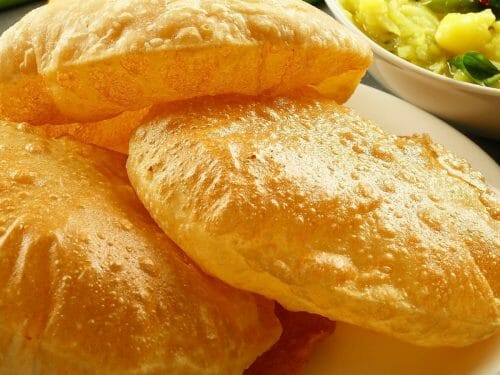 Yellow Pumpkin Poori is a delightful twist on the classic Indian puri. A combination of grated yellow pumpkin, wheat flour, and a blend of aromatic spices, these deep-fried bread discs are a culinary masterpiece. The sweetness and earthy flavour of the pumpkin, combined with the heat of green chillies and the distinct aroma of ajwain, create a symphony of flavours in every bite.
This recipe starts with steaming and pureeing the pumpkin, ensuring a smooth and velvety texture. Adding ajwain adds depth to the flavour profile, while green chillies bring a subtle heat that beautifully complements the sweetness of the pumpkin.
Once the dough is ready, it's rolled into small/medium discs and deep-fried to a perfect golden brown. The result? Crispy, puffed-up pooris that are incredibly satisfying. These pooris are a fantastic accompaniment to potato masala, aloo subzi, or any of your favourite side dishes.
If you're a fan of Indian bread like poori, you'll adore this unique Yellow Pumpkin Poori. It's an excellent way to sneak some veggies into your meal while savouring the deliciousness of traditional Indian bread. Make these for a special breakfast or brunch, and watch your family and friends fall in love with this creative twist.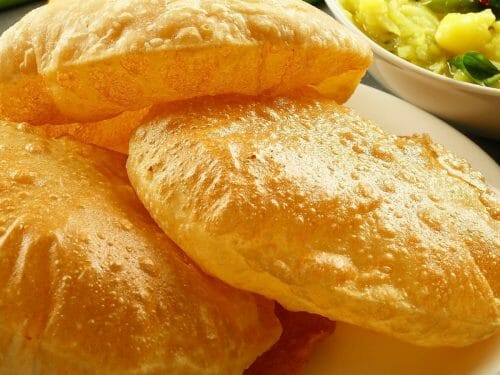 Yellow Pumpkin Poori (Parangikai Puri)

Recipe

Crispy and flavorful, Yellow Pumpkin Poori is a delightful Indian bread made with grated pumpkin, wheat flour, and aromatic spices.
Ingredients for
Yellow Pumpkin Poori (Parangikai Puri)
2

cups

Wheat Flour

2

cups

Yellow Pumpkin (Parangikai, grated (seeds and thick outer skin discarded))

2

tsp

Ajwain (Omam)

4-5

Green Chillies (minced)

Salt (to taste)

Oil (as required for frying)
How to make
Yellow Pumpkin Poori (Parangikai Puri)
Steam cook the grated pumpkin until tender, then grind it into a smooth puree.

Combine wheat flour, pumpkin puree, ajwain, and salt in a mixing bowl.

Add minced green chillies and mix well, adding water to form a pliable dough.

Incorporate 3-4 teaspoons of oil into the dough and knead until smooth.

Divide the dough into small balls and roll each into a small/medium disc (poori).

Heat oil in a frying pan over medium-high heat.

Carefully slide the pooris into the hot oil and fry until they puff up and turn light golden brown, flipping once.

Remove the pooris from the oil and drain the excess oil on paper towels.

Serve hot with potato masala or your favourite side dish.
Frequently Asked Questions (FAQ):
Can I make Yellow Pumpkin Pooris ahead of time?
Absolutely! You can prepare the dough and store it in an airtight container in the refrigerator for up to 24 hours. Fry the pooris just before serving for the best results.
What can I serve with Yellow Pumpkin Pooris besides potato masala?
Yellow Pumpkin Pooris pair wonderfully with a variety of side dishes such as chana masala, egg curry, or even a simple tomato chutney. Get creative and explore different combinations!
Can I use canned pumpkin puree for this recipe?
While fresh pumpkin puree is preferred for its flavor, you can use canned pumpkin puree as a convenient alternative. Just make sure it's plain pumpkin puree without added spices or sweeteners.
Are Yellow Pumpkin Pooris suitable for a vegan diet?
Yes, these pooris are vegan-friendly as they do not contain any dairy products. Ensure you use vegan-friendly oil for frying.
Can I freeze leftover Yellow Pumpkin Pooris?
Yes, you can freeze the cooked pooris in an airtight container for up to one month. Reheat them in an oven or toaster oven to enjoy their crispiness once again.