A delicious and perfect way to start your day with this breakfast dish or ideal for a weekend brunch. French toasts are often served with maple syrup, fruits and sauce.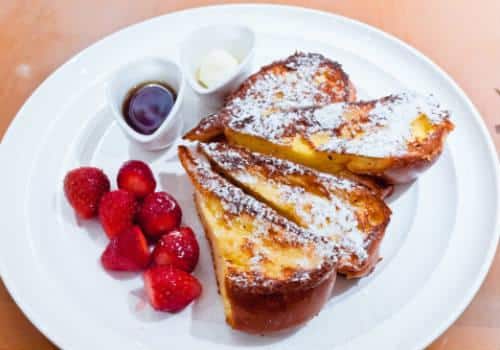 Ingredients:
White Bread Slices – 4
Eggs – 2, large
Cinnamon – 1/2 tsp
Milk – 1 cup
Vanilla Extract – 1 1/2 tsp
Sugar – 3/4 tblsp
Caster Sugar – 1/4 cup
Oil for frying
Method:
1. Whisk the eggs and cinnamon in a bowl.
2. Add the milk, vanilla extract and sugar.
3. Whisk well.
4. Transfer this to a large pan and gently simmer until heated through.
5. Pour this into a large plate.
5. Heat 1/2 tsp oil in a flat tawa over medium flame.
6. Dip the bread slices in the egg mixture and soak for 30 seconds on each side.
7. Gently remove the bread slices, discarding any excess liquid and place them on the hot tawa.
8. Sprinkle caster sugar and cook for 2 minutes or until golden.
9. Flip it over and sprinkle some more caster sugar.
10. Cook for another 2 minutes or until golden brown and crispy.
11. Transfer to a serving dish.
12. Serve.