Cream of Tomato Soup is one of the most popular and loved soup across India. Quick and easy to make, this classic soup is delicious, flavourful and makes a perfect start to any meal or ideal for a cold/rainy day.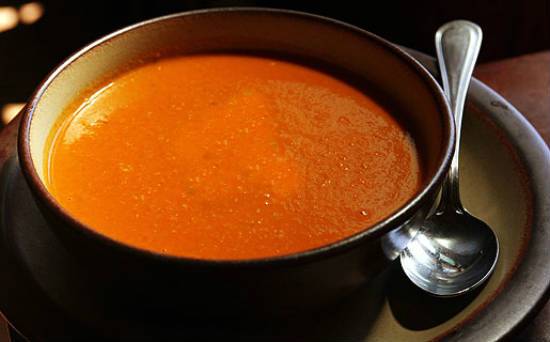 Ingredients:
Tomatoes – 2 cups, chopped
Maida (Plain Flour) – 3 tsp
Vegetable Stock – 1 cup
Tomato Puree – 1/3 cup
Cream – 1/3 cup
Salt as per taste
Black Pepper Powder as per taste
Method:
1. Heat a heavy bottomed pan over medium flame.
2. Add the vegetable stock, flour, tomatoes and tomato puree.
3. Mix well and simmer until slightly thickened.
4. Transfer the soup to a blender and blend until smooth.
5. If you do not have a blender, you can also use keep stirring until fully mixed and smooth.
6. Add the cream and mix well.
7. Sprinkle salt and pepper powder.
8. Serve hot with toasted bread or sandwich.