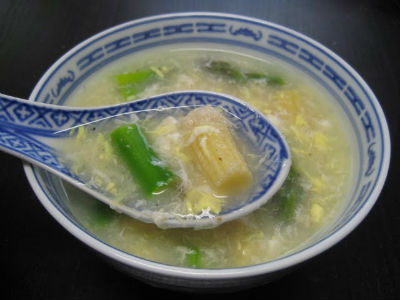 Ingredients:
Crabmeat – 1/4 cup, cooked
Asparagus Spears – 125 gms
Chicken Stock – 2 cups
Oil – 1/2 tsp
Garlic – 1, small clove, minced
Small Onion – 1, minced
Fish Sauce – 1/2 tblsp
Cornstarch – 1 tblsp, dissolved in 3 tsp water
Egg – 1, small, beaten
Sugar as per taste
Salt as per taste
Black Pepper Powder as per taste
Coriander Leaves – few, chopped

Method:
1. Pour the chicken stock in a pan and place over medium flame.
2. Discard the ends of asparagus and cut the bottom parts into small pieces.
3. Add this to the stock and bring to a boil.
4. Cover and simmer for 10 to 15 minutes.
5. Strain the stock and discard the asparagus.
6. Chop the top parts of asparagus into small pieces.
7. Heat oil in a pan ove medium flame.
8. Stir-fry the onions and garlic till golden brown.
9. Pour the strained stock and bring to a boil.
10. Add fish sauce, sugar and chopped asparagus.
11. Simmer till just cooked and add the crabmeat.
12. Stir to mix well.
13. Add the cornstarch and mix until soup is slightly thick.
14. Sprinkle salt and pepper powder.
15. Add the egg slowly and stir until it sets.
16. Remove and transfer to soup bowls.
17. Garnish with coriander leaves.
18. Serve hot.
Note: image is for illustration purposes only and not that of the actual recipe.