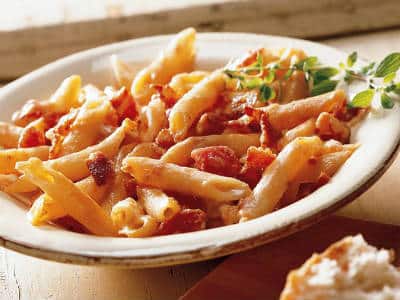 Ingredients:
Penne Pasta – 225 gms, cooked as per package instructions
Tomatoes – 200 gms, peeled, finely chopped
Tomato Sauce – 100 gms
Parmesan Cheese – 2 tblsp, grated
Paneer – 3/4 cup
Cream Cheese Spread – 1/2 cup
Mozzarella Cheese – 3/4 cup, grated
Parsley – 1 1/2 tblsp, chopped
Olive Oil – 1 tsp
Onion – 1/2, chopped
Garlic – 2 cloves, minced
Oregano – 1/2 tsp, dried
Rosemary – 1/2 tsp, dried
Red Chilli Flakes – 1/4 tsp
Salt as per taste
Black Pepper Powder as per taste
Method:
1. Mix the paneer, cream cheese, half of the mozzarella cheese and parsley in a bowl.
2. Keep aside until required.
3. Heat oil in a pan over medium flame.
4. Add the onions and cook for a minute or two.
5. Add garlic and saute for 45 to 60 seconds.
6. Now add the tomatoes, tomato sauce, oregano, rosemary, chilli flakes, pepper powder and salt.
7. Mix well and bring to a boil.
8. Reduce flame and simmer for 30 minutes or until it starts to thicken.
9. Add the pasta and remove the pan from the flame.
10. Mix well.
11. Add the cheese mixture and transfer to a baking dish.
12. Sprinkle the remaining cheese on top and bake in a preheated oven at 400F/200C for 20 to 30 minutes or until cheese is melted and the top is golden.
13. Remove and serve.