A simple and delicious Milk sweet that can be made for any occasion.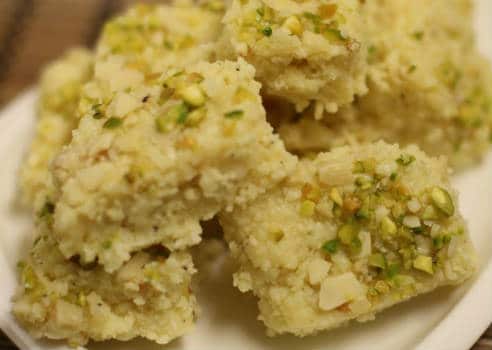 Ingredients:
Milk – 1 litre
Lemon Juice – 3 tsp
Cardamom Powder – 1/4 tsp
Butter – 2 tblsp
Pistachios – 2 tblsp, chopped
Sugar – 1/2 cup
Method:
1. Bring the milk to a boil and simmer until reduced to two-thirds.
2. Add lemon juice and mix well.
3. When the milk curdles and water starts to separate, drain the excess water and discard.
4. Transfer to a pan.
5. Add sugar and mix well.
6. Add butter and stir well ensuring it does not stick to the pan.
7. When it starts to thicken, add cardamom powder and pistachios.
8. Spread our onto a greased tray and cool.
9. Before it cools fully and hardens, cut into desired shapes.
10. Store in an airtight container.