Pongal is a famous rice dish which belongs to the traditional cuisine of Tamil Nadu. In Tamil, the meaning of Pongal is 'boil over' or 'spillover'. Pongal has two varieties, one is 'Sakkarai Pongal' and the other is 'Venn Pongal'. Basically, Pongal is a common breakfast food taken in Tamil Nadu and other parts of South India.
Now, in the Puli Pongal recipe, the meaning of Puli in Tamil is 'Tamarind'. Puli Pongal is a variant which is made of tamarind and boiled rice. Puli Pongal is not so related to the Pongal festival and it is also can be taken for dinner.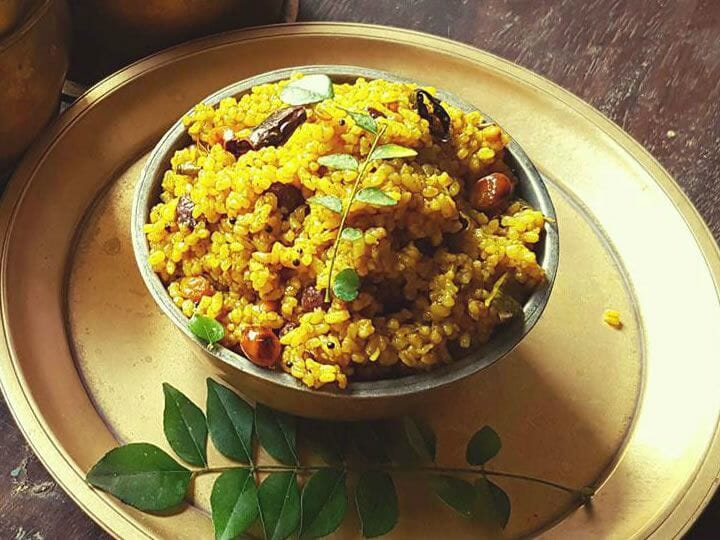 Let us have a look at the ingredients for making a delicious recipe. To make this recipe we need, raw rice, tamarind, dry red chilies, mustard seeds, Bengal gram dal, turmeric powder, curry leaves, asafoetida powder (a powder that consists asafoetida resin with rice flour or wheat flour and Arabic gum), oil and salt as per your taste.
The recipe is very easy and quick to make. It is also healthier for breakfast due to its nutrients. The Puli Pongal contains proteins, fat, fiber, and other nutrients as well. This dish also includes vitamin A, vitamin K, vitamin C and minerals like calcium, iron, fluoride, sodium, etc. That means that this dish is full of nutrients which are healthy for our body.
Tamarind is an excellent source of vitamin B, vitamin C, potassium, magnesium, iron thiamine, phosphorus, fiber, and riboflavin. The Bengal gram dal is a rich source of high protein and calories along with fiber, iron, and phosphorus. Hence, with the use of these ingredients, this recipe becomes healthier and it's slightly sweet, sour and salty taste proves to be a real treat for your delicate taste buds.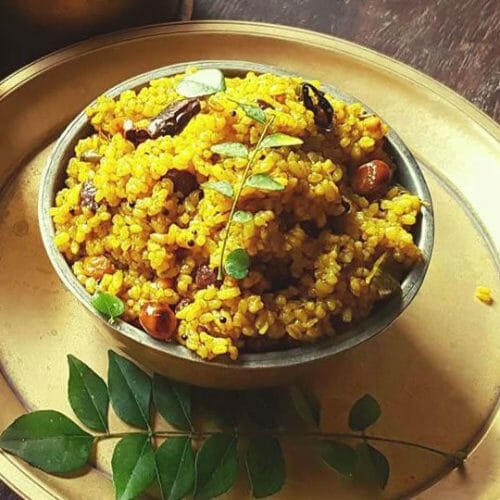 Puli Pongal (Tamarind Pongal)

Recipe

Puli Pongal is a variant of the traditional pongal and is made of tamarind and boiled rice. The recipe is very easy and quick to make.
Ingredients for
Puli Pongal (Tamarind Pongal)
200

g

Raw Rice

1 lemon sized ball

Tamarind

2

Dry Red Chillies

few

Mustard Seeds

few

Bengal Gram Dal

little

Turmeric Powder

few

Curry Leaves

a pinch

Asafoetida Powder

100

ml

Oil

as per taste

Salt
How to make
Puli Pongal (Tamarind Pongal)
Grind the rice to a coarse rava consistency.

Add enough water to the tamarind and extract a thick liquid (about 1 cup).

Heat oil in a pressure cooker.

Fry the mustard seeds and red chillies for 30 seconds.

Add the turmeric powder, asafoetida powder, salt, bengal gram, curry leaves and stir well.

Add the broken rice and tamarind extract.

Add some water (for 1 cup broken rice add 4 cups of wateand stir well.

Cover with the lid and pressure cook until 3 whistles.

Remove and serve hot with papad, potato chips or onion raita.