Also called as "pan-fried noodles", the Hong Kong noodles is a popular dish for lunch or dinner.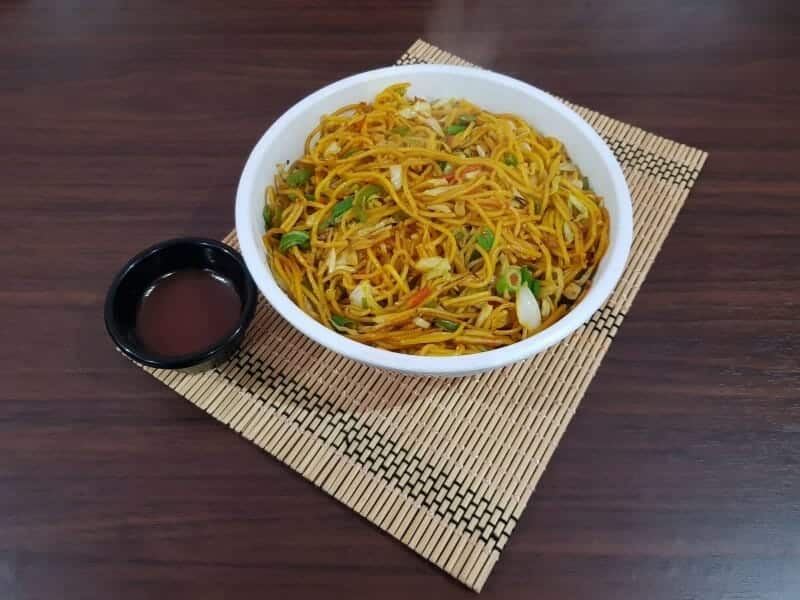 Hong Kong noodles are a type of fried noodles that are eaten in Hong Kong and other parts of China. The dish is usually served with ingredients such as ketchup, soy sauce, sweet soy sauce, vinegar, sesame oil and chopped spring onions.
The name "Hong Kong Noodles" refers to its place of origin (Kowloon in Hong Kong) and also reflects its similarities to Chinese-style stir fried noodles that are cooked at high temperatures with dark soy sauce for flavour.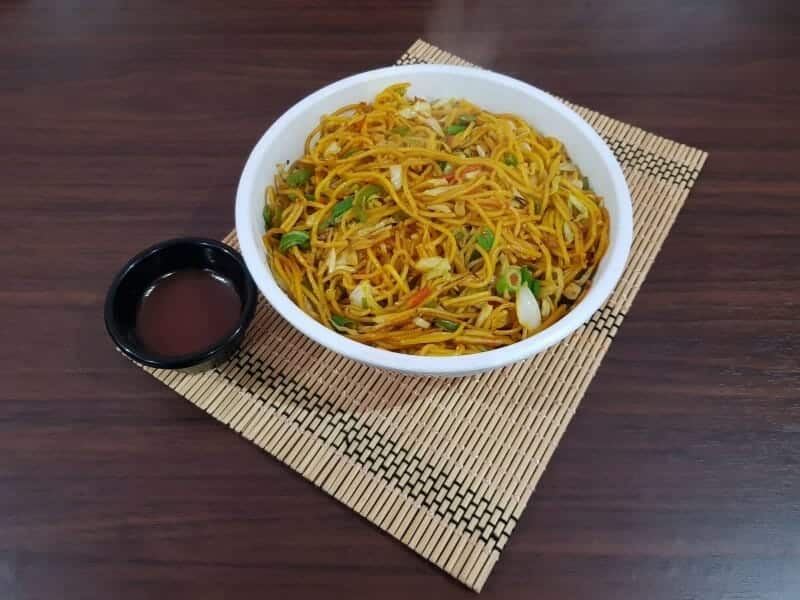 Hong Kong Noodles
Also called as "pan-fried noodles", the Hong Kong noodles is a popular dish for lunch or dinner.
Ingredients
200

g

Rice Noodles - 200 gms

100

g

Bean Sprouts - 100 gms

50

g

Spring Onions

finely chopped

1/2

inch

Ginger

shredded

3

Garlic Cloves

finely chopped

1/4

cup

Chicken Stock

3

Onions

chopped

2

tbsp

Soy Sauce

as required

Oil

as per taste

Salt
Optional
100

g

Boneless Chicken

cooked and cut into pieces

2

Eggs

well beaten
Instructions
Soak the rice noodles in hot water for 10 minutes.

Drain, rinse in cold water and spread out.

Make thin omelettes with the beaten eggs and keep aside.

Heat a little oil in a pan.

Fry the noodles for 60 seconds and keep aside.

Heat some more oil.

Add the onions, ginger and bean sprouts.

Fry for a few minutes and add the cooked chicken, spring onions and garlic.

Add the noodles and fry again.

Pour in the chicken stock.

Cut the omelette into thin strips and garnish the noodles.

Serve hot.
Frequently Asked Questions about Hong Kong Noodles
What kind of noodles should I use for Hong Kong Noodles?
For the authentic taste and texture of Hong Kong Noodles, it is recommended to use thin, fresh Hong Kong-style egg noodles. These noodles are known for their springy texture and ability to absorb flavours well. If you can't find Hong Kong-style noodles, you can substitute them with other thin egg noodles, such as Cantonese-style or Hokkien-style. Alternatively, you can use dried noodles like vermicelli or light rice, but they will have a slightly different texture. Experiment with varying varieties of noodles to find your preferred combination.
Can I make Hong Kong Noodles vegetarian or vegan?
Absolutely! Hong Kong Noodles can be easily adapted to suit vegetarian or vegan diets. Instead of meat or seafood, you can add a variety of vegetables such as bok choy, carrots, mushrooms, and bell peppers. Tofu or tempeh can also be added for extra protein. You can use vegetarian oyster sauce or soy sauce to enhance the umami flavour. For a vegan version, check the ingredient labels to ensure no animal products are included in the sauces or noodles. With these modifications, you can create a delicious vegetarian or vegan rendition of Hong Kong Noodles.
What are some suitable accompaniments to serve with Hong Kong Noodles?
Hong Kong Noodles can be enjoyed as a standalone dish. Still, several accompaniments pair well if you want to enhance the meal. Dim sum favourites like steamed dumplings, such as Siu Mai or Har Gow, make excellent side dishes. A side of Chinese greens stir-fried with garlic, such as Gai Lan or Baby Bok Choy, adds freshness and nutritional value to the meal. Additionally, you can serve a light soup, like Hot and Sour Soup or Wonton Soup, to complement the flavours of the noodles. Don't forget to offer traditional condiments like chilli oil, soy sauce, or black vinegar on the side for added customization.
Can I customize the spice level of Hong Kong Noodles?
Yes, you can easily customize the spice level of Hong Kong Noodles according to your preference. If you enjoy mild flavours, you can omit or reduce the chilli or hot sauce in the recipe. On the other hand, if you prefer a spicier kick, you can increase the quantity of chilli or hot sauce. Feel free to experiment with chilli sauces like Sriracha or Sambal Oelek to add your desired heat level. Remember to taste and adjust the seasonings accordingly to achieve the perfect balance of flavours. Hong Kong Noodles can be tailored to suit various spice preferences, making it a versatile dish for spice lovers and those who prefer milder tastes.