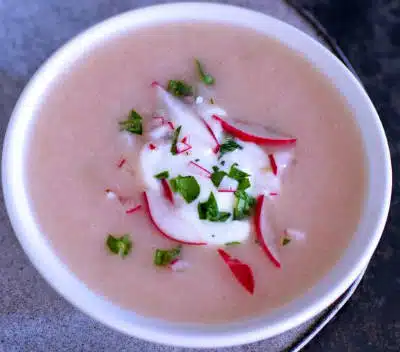 Ingredients:
Radishes – 1 cup, sliced + 1 tblsp finely sliced
Onions – 1/2 cup, finely chopped
Potato – 1, small, peeled, chopped
Milk – 1 cup
Sour Cream – 1/2 cup
Extra-Virgin Olive Oil – 1 tblsp
Parsley – 2 tsp, chopped
Pepper Powder as per taste
Salt as per taste
Method:
1. Heat oil in a pan over medium flame.
2. Add radish, onions and cook for about 4 minutes or until the onions are lightly browned.
3. Add the potatoes, milk, salt and pepper powder.
4. Gently bring to a boil, stirring from time to time.
5. Reduce flame and cover the pan with a lid.
6. Cook for 5 minutes.
7. Transfer the mixture to a blender and puree until smooth.
8. Pour into individual serving bowls.
9. Garnish with the radish slices, sour cream and parsley.
10. Serve warm.
Tip: Using smaller radishes will give the soup a pink colour while larger ones will give it a white colour.