A fav. of the Parsi community, this is generally served during festive occasions.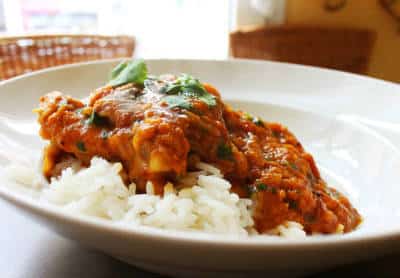 Ingredients:
Apricots – 100 gms, dried, soaked overnight, stone if any removed
Chicken Breasts – 2
Onion – 1, chopped
Ginger – 1 1/2 tsp, grated
Garlic – 3 cloves, crushed
Tomatoes – 2, chopped
Cinnamon – 1 inch piece
Coriander leaves – handful, chopped
Sunflower Oil – 2 tblsp + extra
Hot Water – 1/2 cup
For the masala:
Dry Red Chillies – 5
Cumin Seeds – 1/2 tsp
Cinnamon – 1/2 inch stick
Green Cardamoms – 3
Cloves – 3
Coriander Leaves – 1/2 tblsp
Method:
1. Grind the ingredients for masala and keep aside until required.
2. Heat oil in a pan over medium flame.
3. Add the cinnamon and fry for a minute.
4. Add the onions and saute until light brown.
5. Add ginger, garlic and the ground masala.
6. Stir well and reduce flame.
7. Heat 1 tsp oil in a separate pan over medium flame.
8. Add the chicken and cook for 5 minutes on each side or until well browned.
9. Remove and add to the pan containing the onion mixture.
10. Sprinkle a little salt and stir.
11. Add tomatoes, aprictos and water.
12. Mix well and cover the pan with a lid. Increase flame to low-medium.
13. Simmer for 45 minutes or until the chicken is tender.
14. Add the coriander leaves and season with salt if required.
15. Remove and transfer to a serving dish.
16. Serve hot with rice, naan or chapatis.
Tip: If the gravy is too watery, remove the lid and cook for a few minutes until thick. Ensure the chicken is is not overcooked. If required, remove the cooked chicken until the gravy is thick and add it back to the pan.