Spring Onions or Scallions contains essential nutrients like Vitamin A, C, K, B1 and B2, iron, calcium, dietary fiber. They also help in reducing the blood pressure, cholesterol and glucose levels.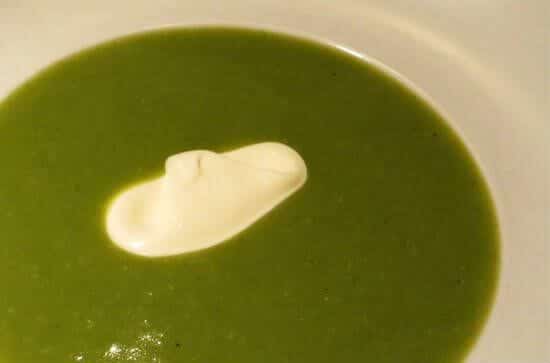 Ingredients:
Spring Onions – 2 bunches, finely chopped
Potato – 1 large or 2 small
Garlic – 3 cloves
Soy Sauce – 1 tsp
Butter – 2 tsp, melted
Black Pepper Powder as per taste
Salt as per taste
Method:
1. Boil the potato, peel the skin and keep aside.
2. Heat butter in a pan.
3. Add the spring onions and garlic.
4. Saute for a minute.
5. Pour 2 cups of water and simmer for 8 to 10 minutes.
6. Remove from flame and allow it to cool.
7. Add the potatoes and grind to a smooth puree.
8. Add enough water (as required), soy sauce, salt and pepper powder.
9. Stir well and place it over medium flame.
10. Simmer for a few minutes.
11. Serve warm.
Note: Instead of potato, you can also add radish.
Tip: You can also garnish the soup with a dollop of fresh cream if desired.