These delicious homemade ginger biscuits are great for any occasion. You can serve it as a teatime snack, evening snack or afterschool snack for kids too.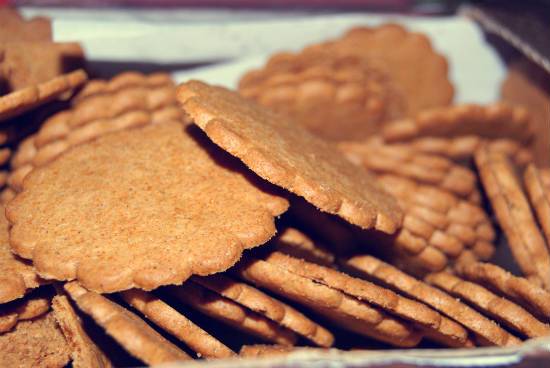 Ingredients:
Wheat Flour – 500 gms
Ginger – 100 gms, cleaned, grated
Vanaspati – 100 gms
Oil for frying
Salt as per taste
Method:
1. In a large bowl, whisk the vanaspati until frothy.
2. Add the ginger and wheat flour.
3. Mix well until it has a thick, pliable dough consistency (similar to a roti dough).
4. Make small balls of the dough and roll them out into small/medium rounds.
5. Using a round or diamond cutter, cut them into desired shapes.
6. Heat oil in a frying pan over medium flame.
7. Fry the prepared biscuits, in batches, until light golden brown.
8. Remove, drain excess oil and store in a clean, sterilized jar.
Tip: You can use any sharp stencils to cut the biscuits in any decorative shapes.