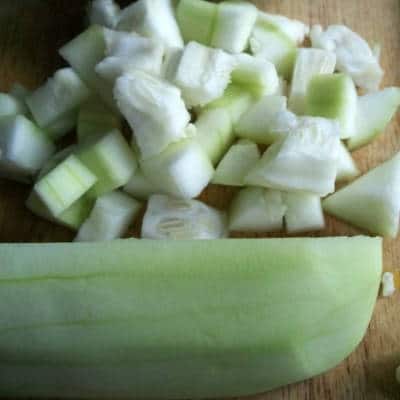 Ingredients:
Sorakkai – 1 cup, chopped
Curd – 2 cups, thick
Turmeric Powder – a pinch
Sugar – 1 tsp
Salt as per taste
Grind together:
Toor Dal – 2 tsp
Bengal Gram Dal – 1 tsp
Cumin Seeds – 1 tsp
Coriander Seeds – 1 tsp
Green Chillies – 2
Ginger – 1/2 inch piece
Coconut – 1/4 cup, grated
For tempering:
Mustard Seeds – 1 tsp
Dry Red Chilli – 1
Curry Leaves – few
Oil – little
Method:
1. Soak the toor dal, bengal gram dal, coriander seeds and cumin seeds for 30 minutes.
2. Drain and grind together with the coconut, green chillies and ginger to a smooth paste.
3. Heat 1/2 tsp oil in a pan.
4. Add the sorakkai, salt and turmeric powder.
5. Cook till the sorakkais are half cooked.
6. Remove.
7. Add the ground paste to the curd and mix well.
8. Add salt, sugar and 1/2 cup of water.
9. Bring to a boil and add the half cooked sorakkais.
10. Bring to a boil again.
11. Heat oil for tempering and fry the tempering ingredients.
12. Pour over the mor kuzhambu and serve hot with rice.