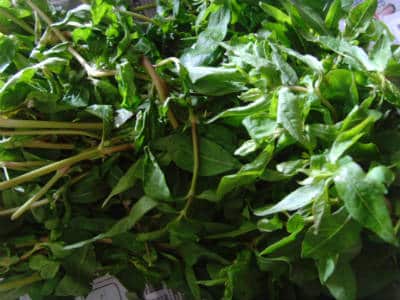 Ingredients:
Ponnakanni Keerai – 1 bunch, cleaned, washed
Moong Dal – 50 gms, cooked
Sambar Powder – 2 tsp
Turmeric Powder – a pinch
Salt as per taste
Oil – 1/2 tsp
Vengaya Vadagam – 1 tsp
Grind together:
Coconut – 1/4 cup, grated
Cumin Seeds – 1 tsp
Curry Leaves – few
Coriander Leaves – few
Method:
1. Pour 3/4 cup of water to a pan and place over low-medium flame.
2. Add salt, sambar powder, turmeric powder and keerai.
3. Cook for a few minutes.
4. Add the cooked dal and bring to a boil.
5. Add the ground ingredients and cook for 2 minutes.
6. Stir once or twice.
7. Heat oil in a pan and fry the vengaya vagadam for 30 seconds.
8. Add to the kuzhambu and remove from flame.
9. Serve with rice.
Vengaya Vadagam is a ready to use seasoning used in parts of TamilNadu. It is made using a a mixture of onion, garlic, fresh spices mixed together, dried and stored for years of use. This is shaped into small balls and is crushed when required.