Also called as a Shahi Tukda, this is a delicious dessert made with deep fried bread slices, milk, dry fruits and custard. Often made during Diwali, this is also made during other festivals and special occasions. Can be served warm or chilled.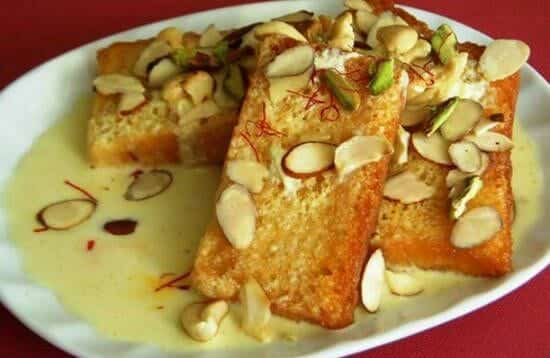 Ingredients:
Bread Slices – 8 to 9
Milk – 200 ml
Sugar – 100 gms
Custard Powder – 3 tblsp
Saffron Strands – 1/8 to 1/4 tsp
Cashew Nuts – 2 to 3 tblsp
Raisins – 2 to 3 tblsp
Almonds – few, sliced (optional)
Pistachios – few, sliced(optional)
Ghee as required for frying
Oil – 4 tsp
Method:
Heat oil in a small frying pan.
Fry the cashew nuts and raisins until lightly golden brown.
Remove and keep aside.
Cut the bread slices into halves.
Heat ghee in a pan over medium flame.
Add the bread slices and fry until lightly browned and crispy.
Remove and keep aside.
Heat milk in a pan and bring to a boil. Reduce flame to low.
Add sugar, saffron strands, custard powder and stir well until sugar has fully dissolved.
Transfer the bread slices to a serving dish.
Pour the milk on top.
Garnish with cashew nuts and raisins.
Keep it in the fridge for 30 minutes.
Garnish with almonds and pistachios.
Serve chilled.