Indian culinary is always associated with the name Biryani and there is almost no festivity in India without the delicious aroma of any kind of biryani encompassing the whole ambience. In India most of the southern and northern states that were under the Mogul empire have turned out to be popular for their Biryani varieties.
Here is a list of the Top 20 Popular Biryanis of India.
Popular Meat Biryanis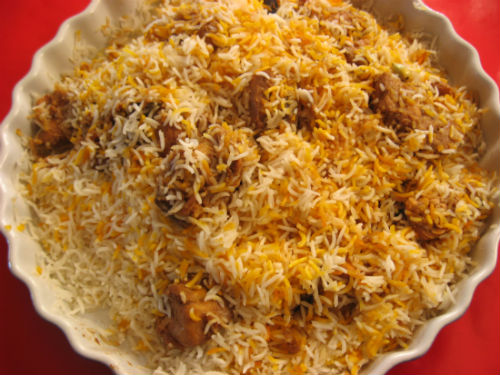 Vegetarian Biryanis
Vegetable Biryani – Comparatively lighter in fatty components but rich in flavor with multi vegetable flavor and ideal taste for a marriage party of mixed gathering.
White Pulav – A main rice dish with curries and chutneys and an oft welcome food in evening parties.
Mogul Veggie Biryani – Steaming hot biryani straight from the handy cooking vessel, with very rich spicy flavor in the typical Mogul style but with the mixture of beans, carrots and peas.
Kashmiri Pulav – Cherishing and nourishing with dry fruits and nuts – awesome to look and fabulous to taste
Jeera Rice – A great component of ghee rice, smelling sweet with the irresistible flavor of ghee and goes well once again with curries and chutneys.
Tawa Pulao – Delectable basmati rice biryani with the assorted flavors of potato and capsicum.
Tehari – A famous vegetarian item in India and is cooked with beef in Bangladesh – not very spicy and can be served with raita.
Mushroom Biryani – Add mushroom to the ingredients of biryani and it brings in an added flavor.
Mogul Biryanis
Mughali Biryani – It is a Mogul style of cooking with rich contents of lamb and is a one dish meal to relish. Dindigul biryani evolved out of this tradition.
Lucknow Biryani – Famous in Lucknow, a place ruled over by the mogul emperors for a long period of time – it is otherwise known as Awadhi Dum biryani.
Ambur Biryani – It is a famous South Indian kind found in Tamil Nadu in typical mogul style. It is served with raita (pachadi) and brinjal curry.
Regional Biryanis
Malabar Biryani – Famous in the coastal areas of Kerala with any of the mutton, chicken or egg as the base ingredient.
Bhatkali Biryani – This is also a favorite food of the coastal areas of Karnataka. It is somewhat different from Bombay biryani, rather an improved version of it.
Hyderabad Dum Biryani – last but not the least, a mention without the famous Dum Biryani of Hyderabad in chicken or mutton will leave an incomplete picture of the variety biryanis of India. Of course, it also comes with the mogul influence and is the ever favorite dish of hot Indian restaurants and party halls.
Any festivity in India feels half way done if biryani does not have its queen's role in the main course. Being sumptuous to eat, delicious to taste and rich to remember, the aroma and flavors of Indian biryanis ever stay in the tongue and the heart for the satisfaction they render after eating. You feel the fullness of your party or marriage dinner or birthday gathering, if at all you have one or the other biryani recipe in your menu according to your food habits. No wonder, the Indian biryanis have attracted the taste of the foreigners that most of the Indian eateries abroad have become hot sales spots for the variety they produce in preparing the biryanis.