Some veggies attract the eyes and the taste buds with their color and flavor. Some look untouchable to you due to your previous experience with them. Brinjal or Egg Plant is one which forms part of your everyday cuisine once tasted and realized for its value and benefits. You don't leave the vegetable; you start cooking it and try to do more with it after relishing its taste and the variety of benefits it contains.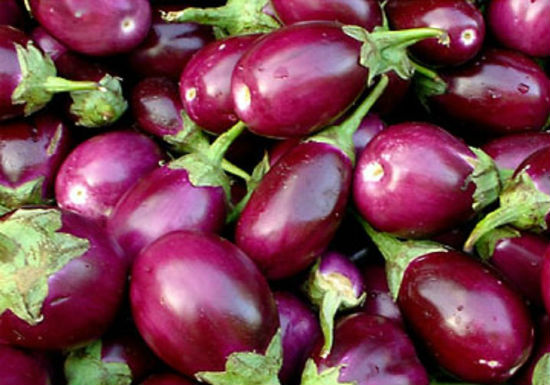 Having grown in the forests of India first and then cultivated by China, eggplant as you commonly call, is the favorite of Middle East countries and are largely grown in Turkey, Italy and Japan. Aubergine as known in the western countries, this purple or light blue colored veggie is shiny with an oval or, elongated shape. Brinjal has the other names like Guinea Squash and Melongene as well. Sure, numerous as the names are, numerous the values and benefits of brinjal be.
Health Benefits
Brinjal is a low calorie veggie, which can be taken in good quantity by those who wish to cut down their extra kgs. You need not rush to a gym every day; just add this eggplant to your diet instead.
Its watery substance helps you avoid dehydration and provides necessary energy to your metabolism.
This small and thin flashy veggie is rich in vitamins like B6, B5, B1 and B3, which are the necessary vitamins that provide energy to maintain fat, protein and carbohydrate metabolism.
Eggplant is very rich in minerals like manganese, iron, and potassium and copper. It has copious anti oxidant elements. Further, they contain the antioxidant chemicals called anthocyanins. They protect the body from cancer, neurological diseases, inflammation and aging.
Brinjals are highly helpful in controlling blood pressure, high cholesterol and type 2 Diabetes. They improve the cardiovascular system. They are antiviral, antimicrobial and antimutogenic with the element of Chlorogenic acid in them.
Take eggplant regularly to replenish your body with fiber content. It is a treasure of dietary fibers and is a good source of good digestion. Your body feels light and energetic, if you take sufficient quantities of brinjal.
No wonder you will carry a basket of aubergine home from your veggie market more than often, when you understand the qualitative values of this prince of vegetables.
Taste and uses
Of course, brinjals taste a bit sour and bitter. The first touch of it on your tongue may not be palatable due to the content of nicotine in it.
Slice the brinjal into dices after cutting its stem. Soak the slices in salt water for some time and they put the dices to cook. It tastes good and sweet.
Eggplant can be steamed, baked, roasted or used in salads after being smashed. It is a favorite dish in Indian and Mediterranean cuisine.
You make more of its medicinal value with its different usages.
Roasted brinjal on fire helps you remove the excess phlegm of the body.
Make a soup out of brinjal and tomato and make it an appetizer that will promote good digestion.
Bake brinjal and take it with raw sugar on empty stomach in the morning. You get rid of the enlarged spleen, caused by malaria.
Take smashed brinjal with asafetida or garlic. It cures flatulation.
Take baked or smashed brinjal with honey in the evening. It promotes sound sleep in you.
Rare facts about brinjal
Brinjal is not good for people with much bile humor or acidity. Similarly, those who have gall bladder problems, please avoid this vegetable. People suffering from itching problem- do not try eggplant. It is not advisable for pregnant women to use brinjal often. Still, it is great in its medicinal ingredients that it is used as an antidote for mushroom poisoning and is highly helpful in arresting intestinal bleeding.
Tremendous are the benefits of eggplant and multifarious are its uses. Why don't you try and see for yourself the bliss of brinjal? Enjoy the fun with eggplant.