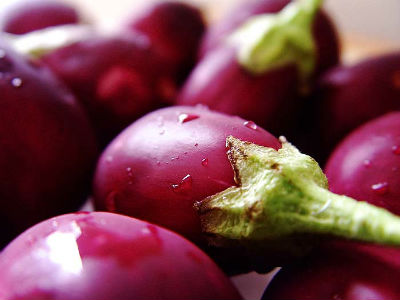 Ingredients:
Brinjals – 500 gms, chopped into 1 inch pieces
Turmeric Powder – 1/2 tsp
Tamarind Extract – 1 cup
Red Chilli Powder – 50 gms
Fenugreek Powder – 1 tsp
Oil – 100 ml
Salt as per taste
For tempering:
Fenugreek Seeds – 1/2 tsp
Mustard Seeds – 1 tsp
Asafoetida Powder – 1/4 tsp
Dry Red Chillies – 2
Oil – 1 tsp
Method:
1. Combine tamarind extract, salt, turmeric powder, red chilli powder and fenugreek powder in a bowl.
2. Add the brinjals and mix well.
3. Marinate the brinjals overnight.
4. Then drain the tamarind extract and transfer the brinjals to a plastic sheet.
5. Keep the brinjals under the sun for a day and remove.
6. Heat 100 ml oil and add the brinjals to this.
7. Mix well.
8. In a separate pan, heat oil for tempering and fry the tempering ingredients.
9. Pour this over the brinjals.
10. Transfer to a clean, sterilized jar and store.
11. Use as desired.