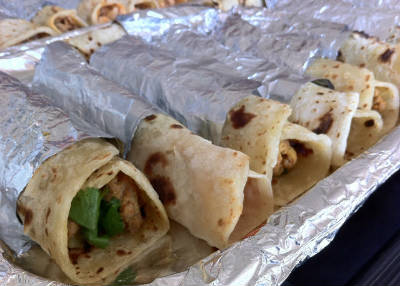 Ingredients:
Spinach – 1/2 bunch, boiled, drained
Onions – 1 tblsp, finely chopped
Tomatoes – 1 tblsp, finely chopped
Ginger Garlic Paste – 1 tblsp
Cumin Seeds – a pinch
Mustard Seeds – a pinch
Coriander Leaves – handful, chopped
Turmeric Powder – 1 tsp
Coriander Powder – 1 tsp
Chaat Masala Powder – 1 tsp
Tomato Ketchup – 1 tblsp
Oil as required
Salt as per taste
Paratha/Roti – 2, to serve
Method:
1. Heat oil in a pan over medium flame.
2. Fry the mustard seeds and cumin seeds for 30 seconds.
3. Add the onions, ginger garlic paste and tomatoes.
4. Saute well for a minute.
5. Add the spinach and mix well.
6. Add coriander powder, turmeric powder, chaat masala powwder and ketchup.
7. Stir and mix well.
8. Garnish with coriander leaves and remove.
9. Gently warm the rotis on a tawa and spread some of the filling.
10. Roll the rotis tightly and serve at once.
Tip: If desired, toast the rolls before serving.