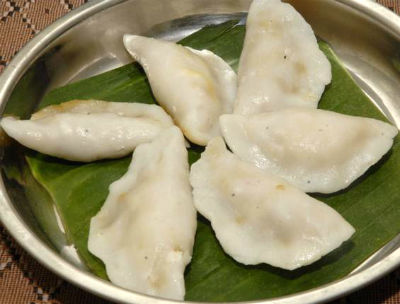 Ingredients:
Raw Rice Flour – 200 gms
Roasted Peanuts – 100 gms
Jaggery – 1 cup
Cardamom Powder – little
Method:
1. Grind together the peanuts and jaggery in the mixie.
2. Add cardamom powder and mix well.
3. Shape into small balls and keep aside.
4. Boil 2 cups of water in a pan and add the rice flour.
5. Mix well without any lumps.
6. When it starts to thicken, remove and shape them into small cups.
7. Place some of the jaggery-peanut mixture and fold well.
8. Steam cook the prepared kozhukattais and transfer to a serving plate.
9. Serve.
Note: image is for illustration purposes only and not that of the actual recipe.