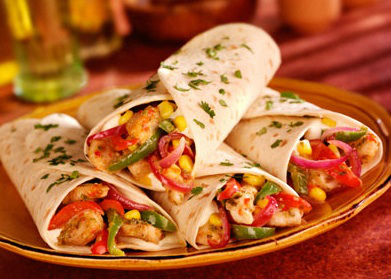 Ingredients:
Roomali Roti – 4
For the Filling:
Paneer – 200 gms, squared or sliced
Olive Oil – 2 tblsp
Oregano Powder – 1 tsp
Salt as per taste
Pepper Powder as per taste
Radish – 4 tblsp, grated
Carrot – 4 tblsp, grated
Paneer – few cubes, fried
Chilli Flakes as per taste
Method:
1. Heat oil in a pan over mediumm heat.
2. Add the paneer squares and fry on both sides.
3. Add salt, pepper powder and oregano.
4. Remove and keep aside.
5. Place one or two paneer cubes in the middle of roti.
6. Microwave the roti till it is warm.
7. Add 1 or 2 tblsp of carrot, radish and frid paneer cubes.
8. Garnish with chilli flakes and roll up the roti.
9. Serve.

Tip: You can also add other vegetables if required.
Note: image is for illustration purposes only and not that of the actual recipe.