Baingan Mussalam or Mughlai style Brinjals cooked in a tangy tomato gravy is a delicious and mouth-watering side dish for rotis, naans or parathas. This version of the recipe uses the brinjal whole and in the other version the brinjals are chopped.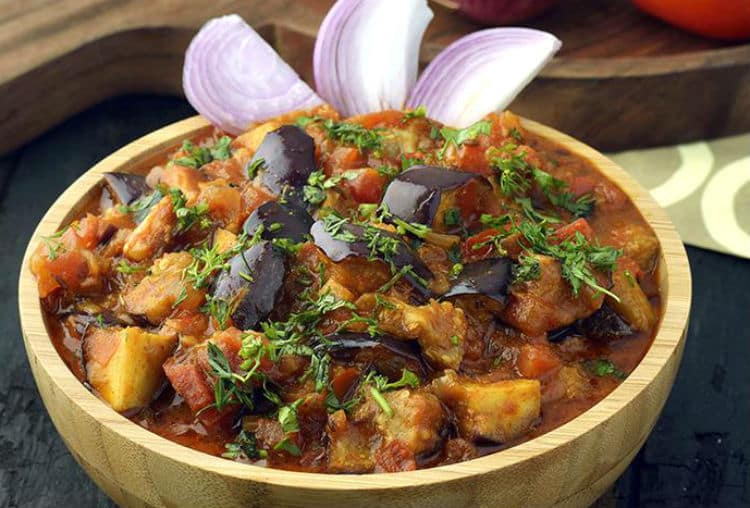 Ingredients:
Brinjals (Aubergines) – 250g
Oil – 2 tsp
Onions – 4, medium, finely sliced
Ginger – 2 inch piece, chopped
Garlic – 5 cloves, chopped
Dried Red Chillies – 2
Peanuts – 2 tblsp
Sesame Seeds – 1 tblsp
Poppy Seeds – 1 tblsp
Red Chilli Powder – 1/2 tsp
Turmeric Powder – 1/4 tsp
Aniseed Powder – 1/4 tsp
Dried Mango Powder – 1/4 tsp
Black Pepper Powder – 1/4 tsp
Cumin Powder – 1/2 tsp
Coriander Powder – 1/2 tsp
Mace and Nutmeg – a pinch
Garam Masala Powder – 1/2 tsp
Green Cardamom Powder – a pinch
Coriander Leaves – to garnish
Salt to Taste
Seasoning:
Oil – 1 tblsp
Mustard Seeds – 1/2 tsp
Cumin Seeds – 1/2 tsp
Method:
Slice the brinjals lengthwise, coming up 3/4th of the way up.
Heat the oil in a pan.
Saute the onions, ginger, garlic and red chillies for a minute.
Allow it to cool and grind them into a paste.
Roast the peanuts, sesame seeds and the poppy seeds on a dry pan.
Leave it aside, till cool.
Grind them to fine powder.
Mix the ground paste, powder and remaining filling ingredients in a bowl.
Stuff the brinjals with the filling.
Take a shallow pan and heat oil in medium flame.
Saute the cumin and mustard seeds.
Add the stuffed brinjals and toss gently.
Cover the pan with a lid and simmer the flame.
Turn the brinjals occasionally, till tender.
Garnish with coriander leaves.
Serve hot with any naan, roti, pulao or paratha.
image via Tarla Dalal