Refreshing Mint Chutney meets crispy bread for a zesty sandwich that's perfect for any time of the day!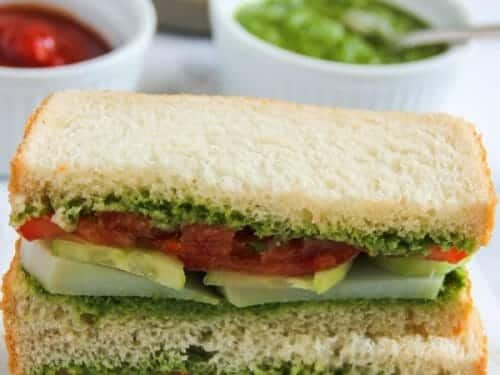 Revamp your sandwich routine with the refreshing Mint Chutney Sandwich. This recipe is bursting with the vibrant combination of mint, coriander, and zesty lemon, offering a compelling twist on the classic sandwich. Fresh mint leaves, fragrant coriander, and a hint of green chillies blend harmoniously to create a chutney that's equal parts bold and refreshing.
The preparation is a breeze – blend the chutney ingredients into a smooth, flavorful mixture. Spread a luscious layer of butter on one slice of bread and generously slather the other with the zesty mint chutney. Add a layer of cucumber and tomato slices atop the chutney for extra crunch and freshness. Finally, combine the pieces, cut them into preferred shapes, and voilà – an exquisite Mint Chutney Sandwich ready to be devoured!
This sandwich is a treat for the taste buds and a versatile delight. Pair it with a side of crisps or a fresh garden salad for a satisfying meal. If you're intrigued by the lively flavours of this sandwich, you might also enjoy exploring other recipes featuring mint and herbs, such as Minty Pea Soup or Coriander-Lime Rice.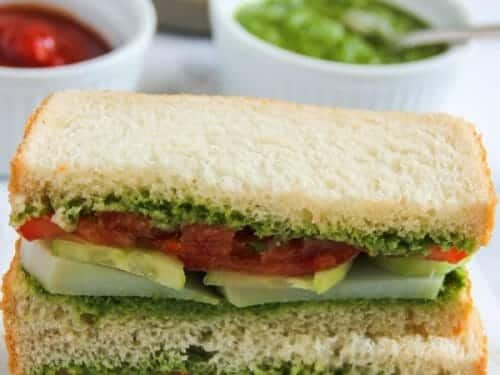 Mint Chutney Sandwich
Refreshing Mint Chutney meets crispy bread for a zesty sandwich that's perfect for any time of the day!
Ingredients
4

Bread Slices (crusts removed)

Butter (as required)

Few slices of Cucumber (optional)

1

Tomato (sliced, optional)

1

bunch of Mint Leaves (chopped)

Big handful of Coriander Leaves (chopped)

2

Green Chillies (medium)

1

Garlic Clove (peeled and chopped)

1/2

inch

piece of Ginger (peeled and chopped)

1/2

tsp

Sugar

Juice of 1/4 Lemon

Salt (as per taste)
Instructions
Finely chop mint and coriander leaves.

Blend them in a mixer along with green chillies, garlic, ginger, sugar, lemon juice, and a pinch of salt until smooth.

Adjust salt if needed and transfer the chutney to a bowl.

Place bread slices on a flat surface.

Spread butter on one slice and chutney on another.

Top one slice with cucumber and tomato slices.

Cover with the other slice, then cut into squares, triangles, or halves.

Serve promptly.
Tip: You can also prepare the chutney in advance and keep it in the fridge until required. Any leftover chutney can also be kept in the fridge for up to 2 to 3 days.
Frequently Asked Questions (FAQ):
How long can I store the Mint Chutney Sandwich?
Store the sandwich in an airtight container for a few hours. However, for the best experience, it's recommended to enjoy it immediately.
Can I make the Mint Chutney in advance?
Absolutely! You can prepare the chutney in advance and refrigerate it until needed. It's a versatile condiment that can enhance various dishes.
What can I pair with Mint Chutney Sandwich?
This sandwich pairs wonderfully with a side of potato chips or a simple garden salad. If you're a fan of vibrant herb-infused dishes, you might also enjoy trying out recipes like Basil Pesto Pasta or Cilantro-Lime Grilled Chicken.
Can I customize the spiciness of the chutney?
Certainly! Adjust the number of green chillies based on your spice preference. If you prefer milder flavors, you can reduce the amount of chillies or remove the seeds before blending.
Is this sandwich suitable for a picnic?
Absolutely! The Mint Chutney Sandwich is a fantastic choice for a picnic. Prepare and pack the sandwiches in advance, and you'll have a delightful and flavorful meal option for your outdoor adventures.