There's something about Indian cuisines that makes people around the world go bonkers about them. Variety, flavor, taste, cooking style, and regional influence – you name it, and India's got it! Whether you travel from the north to south or from the west to east, the profusion of cuisines that will take the wind out of you is just unimaginable.
Only the freshest of vegetables, choicest of spices and the most premium meats are used for cooking in Indian cuisines. The commonplace foods like Dal Chawal, Aloo Paratha, Idli Dosa, Tandoori Chicken, and Vada Pav are definitely go-to choices for the unfamiliar tongue. But did you know that in India, there exist much rarer cuisines that you may never have heard of? These lesser known cuisines are unique, lip-smacking, and interesting in their own right. Ready to work up an appetite? Check out the below!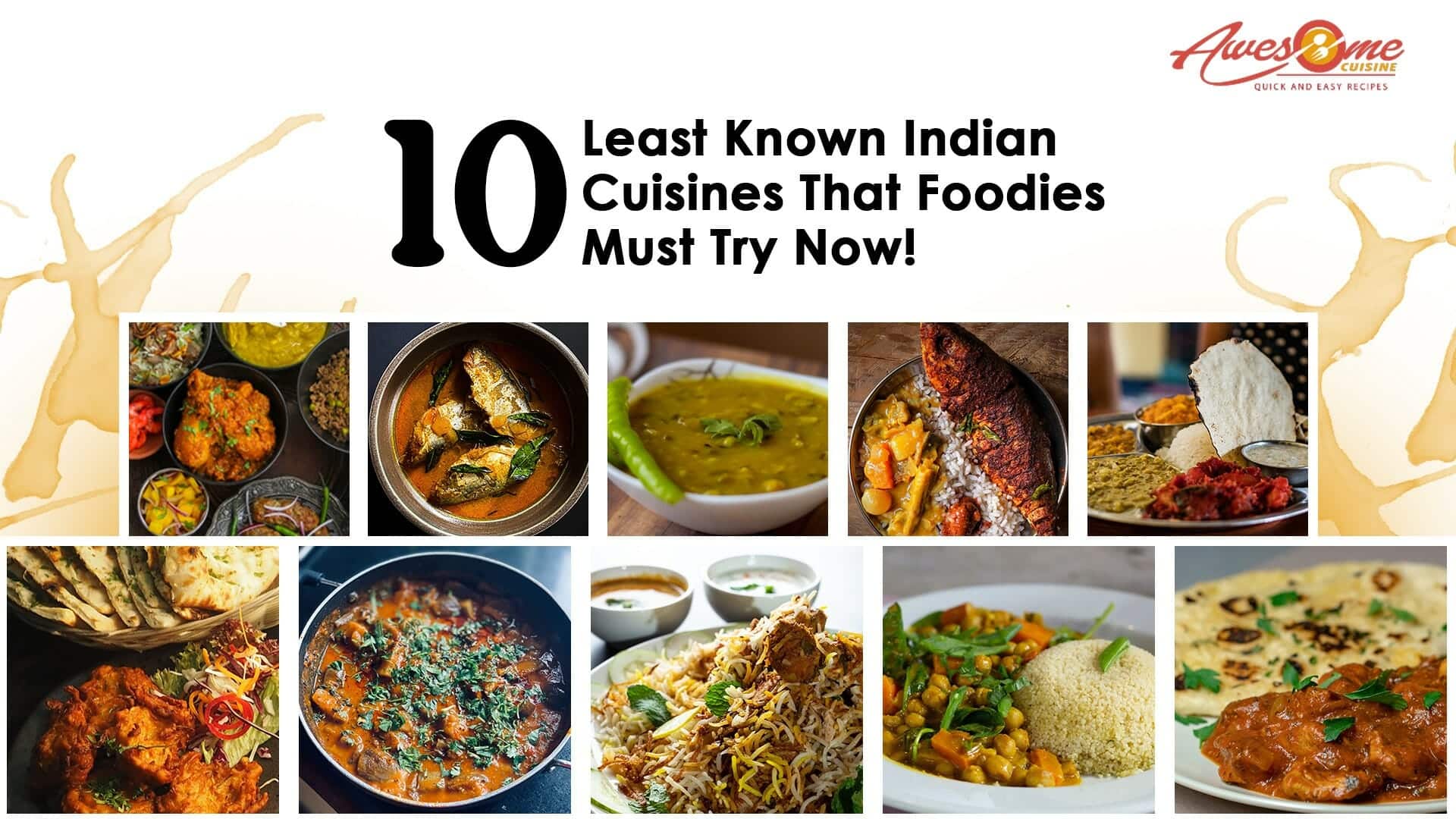 Parsi Cuisine
The community that came from Persia and settled in Gujarat brought their love of food, culture, and business. Parsi food is sweet n' sour, and strives to tickle your taste buds with the most flavorful spices. Top Parsi specialities include Kheema Pao, Berry Pulao (with sizzling caramelized onions, raisins, and cashews), Salli Boti (potato sticks in mutton curry), Jardaloo-Ma-Gosht (mutton and apricots), and Saas-ni-Macchi (a wedding favorite, fish in white sauce). Parsis love their mutton, and this love is what created their world-famous dish – Dhansak. It's a medley of dal cooked with mutton, vegetables, ginger-garlic, and spices and fuses elements of Persian and Gujarati cuisine. If you have a ravenous appetite but are vegetarian, then make Dhansak sans meat and enjoy a flavorful side dish for rice!
Konkani Cuisine
Goa is a country-wide popular vacation spot in India, but little do these vacationers know how good Konkani Cuisine can be! Characterized by the addition of Kokum (coconut), spicy condiments, and Teppal (Szechuan Pepper), Konkan food is spicy, sour, and sometimes hot. Savor traditional items like Kolombo Sambar (your everyday lentil-based stew with a Konkan zing) along with Kadamb (cucumber-based Idli) or get your hands on Tepla Ambat – a fish curry par none and found only in the region.
Assamese Cuisine
For the gastronomically curious, Assamese food has an assortment of dishes that are guaranteed to make your eyes roll up the moment you taste it. Let's start with the sublimely appetizing Khar: an out-of-the-box dish that's made from dried and charred banana skin, lentils, and meat or vegetables. An Assamese speciality that puts together a fusion of fish, bamboo shoots, spices, and chillies, cooked in mustard oil and served with steamed white rice, Khorisa is meant for that foodie who's got a tongue for novelty.
Mappila Cuisine
Swooping the Malabar Coast's culinary tides is a confluence of Kerala and Arab food cultures – Mappila Cuisine. The generous use of taste-enhancing spices like cardamom, cloves, and pepper and the versatility of its cooking base coconut oil make Mappila food one of the most underrated cuisines in India. If you get a chance, try Pathiri (rice pancake), Kallummakkaya (mussels curry), and Erachi Puttu (rice cakes with a meat filling). Mappila Cuisine also brings out some of the tastiest Biryanis in the country – chicken, mutton, or lamb. Snacks in Kerala will quite literally make you go bananas with delicacies like Unnakkaya (boiled ripe banana paste with a mix of cashew, raisins and sugar, deep-fried in coconut oil) and Pazham Nirachathu (ripe banana filled with molasses and coconut shavings).
Odia Cuisine
Are you health conscious and still want a mouthful of some exotic and scrumptious Indian food? Then Odia Cuisine is for you! The food from Odisha is made with a tad less oil and spices than other parts of India, with most people preferring homemade to outside food. You must try the delectable Chuin Besara Bhaja (potato and drumstick veggie mix), the tangy Amba Khatta (a gravy made from raw mangoes), and a well-prepared Buta Dali Aloo Tarkari (made from split Bengal gram). Satiate your sweet tooth with Chhena Poda, an Indian cheesecake made of cottage cheese that's kneaded with sugar, dry fruits, and baked until it's golden brown.
Kathiyawadi Cuisine
It's true that most Gujarati foods don't have much of a spicy touch, but go down south in the state and you have an assemblage of tongue-tickling Kathiyawadi dishes that will keep you gunning for more. Not-to-be-missed noshes from the region include Kathiyawadi Adad (a dal stewed with ginger, garlic and lemon), Bharela Ringan (eggplants filled with besan and a melange of spices), Sev Tamatar (tomatoes tossed in masalas and served with besan sev), Lasaniya Batata (garlicky, chili-cooked potatoes), and Bajra Ni Roti (a millet-based flatbread). Cool the spice down with a bowl of Dahi Tikhari, a yogurt-based tempered accompaniment in a Kathiyawadi Thali.
Naga Cuisine
Another lesser-known culinary gem from the 7 Sisters: Naga Cuisine is as rare as it's sumptuous. When you travel to the quaint eastern state of Nagaland, you will come across never-before heard ingredients like Raja Mircha (king chillies), Akhuni (fermented soybean), bamboo shoots, dry fish, and Anishi (dried stems or leaves). Aikibeye is a thick side dish made of mustard leaves and Colocasia roots that rocks your palette. Another must-have is Zutho, a rice beer that's brewed by sprouting and fermented by yeast and enzymes. It's a celebratory drink enjoyed with family and friends.
Awadhi Cuisine
Relatively different from its Mughlai counterpart, Awadhi Cuisine generally employs a dum style of cooking. The Nawabs of Awadh discovered that by cooking food on a slow fire, the flavor, aroma, and nutrients are well-preserved. An Awadhi platter is rich and fitting for a king – Dum Biryani, Boti and Seekh Kebabs, Shahi Korma, Kulcha, Roomali Rotis and Vegetable Tehri – and many more! This platter isn't complete without some dainty desserts, for which you are spoiled for choice – Gulab Jamun, Kesar Phirni, Gajar Ka Halwa, Jalebi, and the unparalleled Kulfi.
Kashmiri Cuisine
Mouth-watering, tongue-tantalizing, and mind-boggling, Kashmiri food is a culinary odyssey that ought not to be missed, especially for vegetarians. The cuisine is characterized by the use of vegetables, rice, yogurt, cardamom, cloves, and fennel powder, all cooked in mustard oil and sprinkled with Kashmiri red chili powder. Ever heard of Wozij Chaaman? It's a paneer dish in which paneer is golden fried and simmered up in a gravy of cloves, fennel powder, saunf or dried ginger powder. Kashmiri Pandits of the yesteryear also whipped up delicacies like Gogji Rajma (red kidney beans curry with turnip) and Nadier Palak Tikkis that not only taste oh-so-good, but are rare finds for travel foodies.
Kumaoni Cuisine
If you miss out on sampling dishes like Aloo Ke Gutke (fried potatoes seasoned with spices), Bhatt ki Churkani (black soy beans with rice), Kafuli (slow-cooked spinach & fenugreek leaves gravy laced with wheat or rice flour), Dal Bade (Kumaoni equivalent of Dal Vada), or Phanu (lentil-based, soup-like gravy) when you go to Uttarakhand, then it's your loss! These Kumaoni dishes can give a culinary spark to your taste buds. Also remember to take bites of Bal Mithai (crunchy, chewy, caramelized, roasted Khoya balls) and Singals (soft, spongy, fried semolina spirals) for that sweet-craving.
In India, you are always a stone's throw away from trying out a dish you've never heard of or tasted before – such is the breadth of Indian cuisine. Whether you're a homebird or a travelbug, check out the various recipes at Awesome Cuisine to explore the potpourri of Indian cooking.