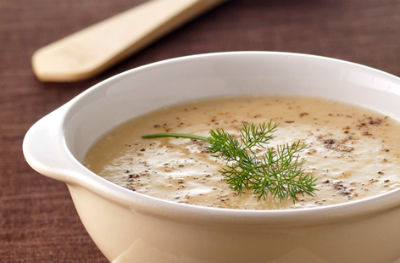 Ingredients:
Fennel with stalks – 700 gms, tops and roots removed
Onion – 1, small, finely chopped
Butter – 3 tblsp
Vegetable Stock or Water – 1 1/2 to 2 cups
Potato – 1, small, finely chopped
Sour Cream – 1/2 cup
Milk – 1/4 cup
Salt – 1/4 tsp
Black Pepper Powder as per taste
Method:
1. Chop the fennel bulbs and slice them into small pieces to make 4 cups.
2. Heat butter in a large pan.
3. Saute the onions for 3 to 4 minutes.
4. Add the potato, chopped fennel and cook for 4 to 5 minutes more, stirring from time to time.
5. Pour the vegetable stock.
6. Add salt and pepper powder.
7. Bring to a boil.
8. Cover the pan with a lid and reduce flame to low.
9. Simmer for 25 minutes or until the vegetables are tender.
10. Then grind them all together to a smooth puree.
11. Strain into a medium pan and place over low flame.
12. Add butter and mix well.
13. Gently add the milk and sour cream.
14. Whisk well until well combined.
15. Adjust seasoning if desired and serve hot.
image credit: tesco.com
Subscribe to our Newsletter
Receive the latest recipes & kitchen tips !