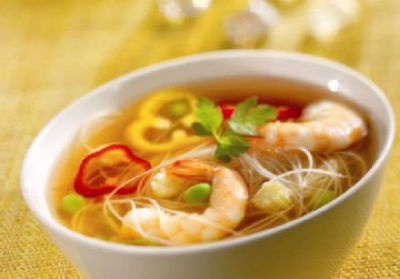 Ingredients:
Prawns – 1/2 cup, shelled, cleaned, deveined, lightly salted
Onions – 2, small, chopped
Potatoes – 2, cubed
Chicken Stock (or Water) – 2 cups
Milk – 1/2 cup
Egg Yolk – 1
Butter – 2 tsp
Salt as per taste
Coriander Leaves for garnish
Method:
1. Place the stock in a pan over moderate flame.
2. Add the onions and potatoes.
3. Bring to a boil till the onions and potatoes are soft.
4. Puree them in a blender.
5. Mix the egg yolk with milk.
6. Transfer the puree into a pan and place over low-medium flame.
7. Warm it gently and gently add the milk-egg mixture and butter.
8. Do not boil.
9. Add the prawns and cook till they curl up.
10. If the soup is too thick, add water or stock.
11. Garish with coriander leaves.
12. Serve hot.
Note: image is for illustration purposes only and not that of the actual recipe.