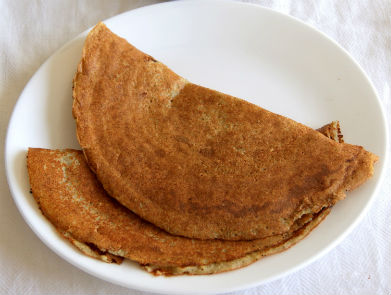 Ingredients:
Bengal Gram Dal – 1/2 cup
Parboiled Rice – 1/2 cup
Toor Dal – 1/4 cup
Urad Dal – 1/4 cup
Dry Red Chillies – 10
Black Peppercorns – 1/4 tsp
Cumin Seeds – 1/4 tsp
Fennel Seeds – 1/4 tsp
Ginger – 1/2 inch piece
Maravalli Kizhangu (Tapioca)- 1 cup
Onion – 1, finely chopped
Oil as required
Salt as per taste
Method:
1. Soak the dals and rice together for 2 to 3 hours.
2. Cook the tapioca till it is 3/4ths done.
3. Peel the skin and grate.
4. Grind the soaked rice and dal.
5. Halfway through add salt, red chillies, peppercorns, fennel seeds, cumin seeds and ginger.
6. Grind to a coarse batter.
7. Add onions and grated tapioca to the batter.
8. Mix well.
9. Heat a tawa over medium flame.
10. Pour a ladleful of the batter.
11. Spread evenly and apply oil to the edges.
12. Cook on both sides till golden brown.
13. Serve hot with coconut chutney.
Note: image is for illustration purposes only and not that of the actual recipe.