Rich in Iron and Calsicum, this is a healthy dish for kids.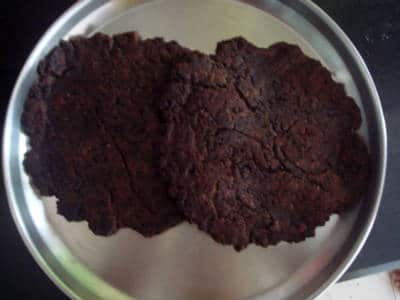 Ingredients:
Kezhvaragu (Finger Millet / Ragi) Flour – 2 cups
Jaggery – 1 1/2 cups
Coconut – 4 tsp, grated
Cardamom Powder – 1/2 tsp
Oil – 1/4 cup
Cashewnuts – 2 tsp, lightly fried in ghee
Banana Leaf – 4, small
Method:
1. Place a pan of water over medium flame.
2. Add jaggery and stir well until fully dissolved.
3. Strain into a clean pan and place over medium flame.
4. Bring to a boil.
5. Add cardamom powder, coconut and cashewnuts.
6. Add ragi flour gradually and mix well until thickened. Ensure no lumps remain.
7. Remove and cool.
8. Make small balls of this mixture and place them on a greased banana leaf.
9. Gently flatten them to a small circle.
10. Heat a tawa over medium flame.
11. Add little oil and add the prepared adai.
12. Remove the banana leaf and apply oil around the edges.
13. Cook till done on both sides.
14. Remove and serve hot with chutney.