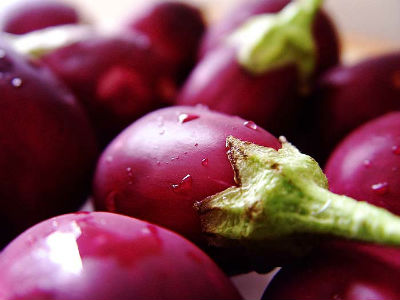 Ingredients:
Tomatoes – 3, chopped
Brinjal – 250 gms, chopped
Small Onions – 250 gms, chopped
Garlic – 10 cloves, peeled, finely chopped or minced
Tamarind Extract – 1 cup
Oil – 1/2 cup
Mustard Seeds – 1 tsp
Curry Leaves – handful
Asafoetida Powder – 1/2 tsp
Fenugreek Seeds – 1/2 tsp
Turmeric Powder – 1 tsp
Coriander Powder – 1 tsp
Cumin Powder – 1 tsp
Pepper Powder – 1 tsp
Red Chilli Powder – 4 tsp
Salt as per taste
Coriander Leaves – few, chopped
Fry in little oil and grind to a paste:
Coconut – 1/2, grated
Saunf – 1/2 tsp
Cumin Seeds – 1/2 tsp
Gasa Gasa – 1/2 tsp
Method:
1. Heat oil in a pan.
2. Fry the curry leaves, mustard seeds, asafoetida and fenugreek for a minute.
3. Add the small onions and garlic.
4. Fry till onions turn light brown.
5. Add tomatoes and saute for a minute or two.
6. Add the ground paste and stir to mix well.
7. Add the masala powders and pour the tamarind extract.
8. Add salt and mix well.
9. Add the brinjals and bring to a boil.
10. Cover the pan with a lid and simmer over low flame for 5 minutes or until the brinjals are tender.
11. Garnish with coriander leaves.
12. Serve hot with rice or as a side dish with idli, dosa or appam.