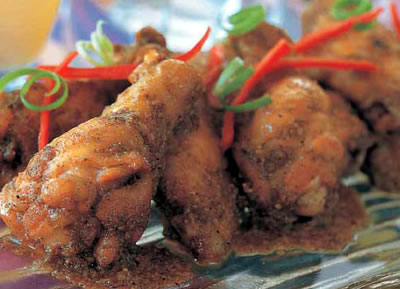 Ingredients:
Chicken – 1, small, cut into bite-sized pieces (remove the skin if desired)
Cumin Seeds – 1/2 tblsp
White Pepper Powder – 1/4 tsp
Fennel Seeds – 1/4 tblsp
Black Peppercorns – 1/2 tsp
Ginger – 1 inch piece, peeled, sliced
Garlic – 3 cloves, peeled
Oil – 1 1/2 tblsp
Water – 1/2 cup
Salt as per taste
Spring Onion – 1, finely chopped
Green Chillies – 2, finely chopped
Method:
1. Sprinkle salt and pepper powder on the chicken pieces and keep aside for few minutes.
2. Dry roast the cumin seeds, fennel seeds and peppercorns over low flame for a minute.
3. Keep aside to cool and grind to a fine powder.
4. Grind together the ginger and garlic to a fine paste.
5. Heat oil in a pan over medium flame.
6. Add the ginger garlic paste and fry for 30 seconds.
7. Add the marinated chicken pieces and fry for 10 minutes or until browned.
8. Add the ground masala powder and cook for another 5 to 10 minutes, stirring from time to time.
9. Pour water and bring to a boil.
10. Stir well and reduce flame to low.
11. Simmer for another 10 to 12 minutes or until the chicken is tender and most of the water has evaporated.
12. Garnish with spring onions and green chillies.
13. Serve.