A delicious and popular Mangalore style Chicken Ghee Roast that can be served with rice items, chapati, roti or naan.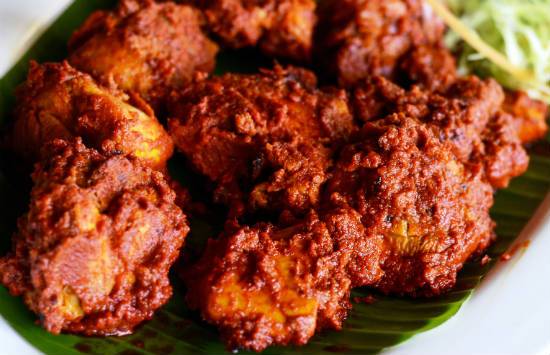 Ingredients:
Boneless Chicken – 500 gms, chopped into bite-sized pieces
Tomatoes – 1/4 cup, chopped
Onions – 1/4 cup, finely chopped
Coconut Milk – 3 tblsp (you can also use plain curd instead of coconut milk. Whisk it well before adding)
Ginger Garlic Paste – 3 to 4 tsp.
Ghee – 3 to 4 tsp
Oil – 1/4 cup
Green Chillies – 3 tsp, finely chopped
Cumin Powder – 1 1/2 tsp
Red Chilli Powder – 4 tsp
Pepper Powder – 1 tsp
Coriander Powder – 4 tsp
Saunf Powder – 3/4 tsp
Turmeric Powder – a large pinch
Curry Leaves – handful
Salt as per taste
Coriander Leaves – handful, chopped
Method:
1. Heat oil in a pan over medium flame.
2. Add the curry leaves, green chillies and fry for 30 to 40 seconds.
3. Add the onions and saute until light golden.
4. Add ginger garlic paste and chopped chicken pieces.
5. Stir-fry until the chicken pieces are half cooked.
6. Add tomatoes and stir well.
7. Add turmeric powder, red chilli powder, coriander powder, saunf powder and 3/4 tsp of cumin powder.
8. Stir well.
9. Add ghee, pepper powder, remaining cumin powder and coconut milk.
10. When it reaches a thick gravy consistency, switch off the flame.
11. Garnish with coriander leaves.
12. Serve as a side dish with rice, roti, chapati or naan.